By Fr. Steve Dos Santos, C.PP.S.
In Christ Jesus you who once were far off have become near by the blood of Christ (Ephesians 2:13).
These words from Ephesians mark an important part of who we are as Precious Blood people. They remind us of all the places we have been. Of all the ways in which we were once far off, distant from the Lord and from each other. They also remind us of all the work we have yet to do. The call to ongoing conversion, which reminds us that in the Blood of Christ we can always be brought closer. But most importantly, these words remind us that as Precious Blood people we are called to bring people near. In Christ there is no stranger.
We live in a time where division seems to be getting the better of us, dividing us into opposing camps, and widening the chasms between us. Even within the Church we are becoming more and more divided. Yet as men and women stained by the Precious Blood of Jesus, we are called to look beyond our differences and see others as Jesus sees them: beloved sons and daughters. As Pope Francis recently reminded us, the recipients of Jesus' love are all, "but above all those who are most distant." The Blood, which has brought us near, impels us to bring others near, especially those we have difficulty recognizing as brother or sister.
I am speaking here not of physical distance, but of human distance. The Lord calls us to overcome that distance. To reach across the chasm and to embrace the other. Christ was not selective on the Cross. He shed His Blood for all people, and we need to be ready to share the love we've received with everyone.
This inclusive love may not change the other person; it changes us. Fidelity to this inclusive love allows us to set our human differences aside. To see more than a convenient label in the face of the other. When we love inclusively those labels and ideas that once seemed so important become less so, and we begin to experience the fullness of God's Reign in our lives. Life rooted in the unity won for us in the Precious Blood of Jesus.
---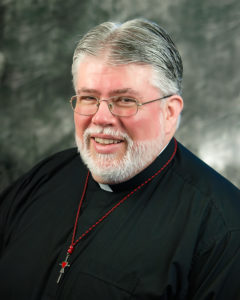 Fr. Steve Dos Santos, C.PP.S., is
the director of vocation ministry
for the Cincinnati Province.