Thousands of messages come our way each day and a good number of those message we do not like, so we try to get rid of those messages as quickly as possible.  For example, when someone sends you message trying to sell you something you do not want, you delete it, throw it in the trash, or simply just pretend as though you never got the message.
The idea of getting rid of an unwanted message is echoed in our scriptures today. As we hear from Wisdom, "Let us beset the just one, because he is obnoxious to us" (Wisdom 2:12).  "Let us condemn him to a shameful death" (Wisdom 2:20). In just the same way when hear a message that we do not like we try to kill the message. We may not want literally to kill the messenger like our scripture suggests, but we find other ways of killing the message. An adult way of silencing messenger would be to present facts proving messenger's message to be wrong. A childish way may be speaking a different message louder than the message we do not want to hear. Kind of like what we see in the news media
Jesus in our Gospel today shares a message with the disciples, a message they do not want to hear. He begins to teach the disciples that "the Son of Man is to be handed over to men and they will kill him, and three days after his death" will rise (Mark 9:31). How did the disciples respond?  They did not understand and they were afraid to ask him. Who could blame them?
Last week, Jesus was teaching a similar message to the disciples and Peter spoke up. Peter did not like Jesus' message and tried to get rid of it. Peter rebuked Jesus: "God forbid, Lord! No such thing shall ever happen to you" (Matthew 16:22). Often, we read this passage and pick on Peter and the disciples for not understanding Jesus. But Peter did understand. He understood that his friend was talking about his impending death, so Peter responded in the same way that any good friend would. Jesus then rebuked Peter: "Get behind me, Satan. You are thinking not as God does, but as human beings do" (Mark 9:31). A response that was not the nicest of comments one could receive. So when Jesus brings up a similar subject, who could not blame the disciples for not saying anything?
In our day-to-day lives, we have thousands of messages that come at us. Some of these messages are welcome. We might be having a bad day and a family member or friend says the right thing to lift up our spirits. Or perhaps we get that note or compliment on doing a good job. These messages are welcomed and, let's face it, they help us to feel good. We need these messages because they give us life.
At other times, we hear messages that we do not want to hear and we can get rid of them by ignoring them, like when a telemarketer calls in the middle of family meal. Then there are those messages that come our way that we do not want hear and wish to get rid of as quickly as possible. But we really need to pay attention to those messages. Because sometimes in a message we do not want to hear there is an invitation to conversion or a change in our lives. For example, a person may comment that the actions our lives are destructive to our health, like when a friend remarks that we are gaining weight. There may be times when someone recognizes the actions of our lives are sinful, and they invite us into a change of heart. The wicked who speak in the reading from Wisdom are offering an invitation for a change of heart. Rather responding to a need to change, they ignore the message and try to get rid of it.
In our day-to-day lives we have messages coming at us and sometimes we would prefer to get rid of them as quickly as possible. At the same time, we are being invited into a necessary change of heart. What are the messages that we hearing we may not like, but know we need to pay attention to?
_____________________________________________________________________________________________________________________________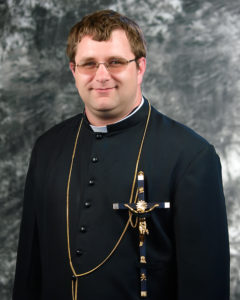 Fr. Matt Keller, C.PP.S., ordained in June 2018, is the parochial vicar of the Dayton Region Seven parishes, which include Emmanuel, Holy Trinity and St. Joseph.