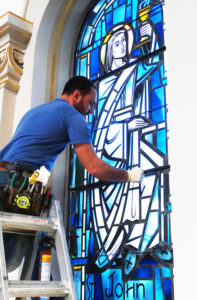 Window Creations LLC of Ottoville, Ohio, is replacing the glazing in the windows of Assumption Chapel at St. Charles Center, Carthagena, Ohio, this week. Jason Buehrer of Window Creations (shown in photo) is supervising the project as St. John looks on. The company is working on most of the chapel's windows and hopes to complete the project by the end of January –weather permitting. Bitter cold forecasted for the week may slow the work. Buehrer said his parents started the business 30 years ago because they wanted work that was service-oriented. Taking care of stained-glass windows in churches is over 80 percent of the family business, Buehrer said, and includes maintaining or replacing the wood or aluminum window frames. "We're Christians, and we like to take care of churches," he said. "It's something we take pride in."
While the Window Creations crew is at work in the chapel, Mass and benediction at St. Charles have been moved to the Gaspar Room.
On Sunday, we heard in St. Paul's letter to the Corinthians that the body has many parts, and all parts are honorable and valuable. May God bless the craftspeople who use their skills and talents to maintain and preserve our places of worship, usually working behind the scenes and in adverse conditions. St. Joseph, patron saint of carpenters and craftspeople, pray for them!