By Fr. Tim Knepper, C.PP.S.
In the Knepper household, when I was growing up, the radio would usually be tuned to adult contemporary or "pop" radio. Often my mom would listen to the Carpenters. One of her favorite songs was "I Need to be in Love." Mom would tell me to listen to the lyrics, but I was a hyperactive child and the lyrics went in one hear and out the other without sticking in the gray matter.
Since Mom's death in December, I have re-listened to the song. The main refrain goes: "I know I need to be in love, I know I've wasted too much time, I know I ask perfection of a quite imperfect world, and fool enough to think that's what I'll find."
In the first reading from Jeremiah we hear: "Before I formed you in the womb I knew you."  In our Catholic theology, we are taught God knows us better than we know ourselves. God's knowledge is rooted in love, for God is love.
Our human struggle is to move from our finite knowledge to trust in God's infinite knowledge for us in our lives. Bishop Barron repeatedly says the Christian life is for us to get out of our comfort zones; going to where God calls us. Or in Precious Blood terms, to go where the cry of the Blood is calling you!
The danger is that we can fall for untruth. As we seek "perfection of a quite imperfect world" that search can lead to despair and us wanting to quit the spiritual life.
When we trust in God's knowledge about our life, we can gain serenity. Serenity in turn can lead to acceptance. Acceptance in turn leads to trust. Trust leads to love, which leads to service of others.
God alone satisfies. This spiritual maxim took me quite awhile to understand and more importantly believe. I would encourage you to listen to the song. It might lead to you to God's knowledge and love.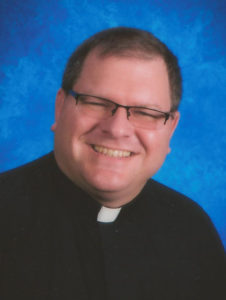 Fr. Tim Knepper, C.PP.S., is the parochial vicar of the Catholic Community of Northwest Dayton, which includes Precious Blood, St. Rita and St. Paul Parishes.