Fr. Scott Kramer, C.PP.S., is the director of the Missionaries' Sorrowful Mother Shrine in Bellevue, Ohio. In this article he talks about the shrine grounds, which contribute so much to its peaceful atmosphere.
Fr. Scott Kramer, C.PP.S.
Our main ministry at the Sorrowful Mother Shrine is the care of souls. On a daily basis, people stop by for any number of reasons. The C.PP.S. are here to meet our pilgrims wherever they are in their spiritual journeys or whatever their needs.
Another valuable ministry we take seriously is taking good care of the heritage our C.PP.S. ancestors entrusted to us, namely our extensive grounds and structures. The structures are a challenge and we are keeping up with needed repairs and improvements.
Equally valuable are the 130 acres or so of woodlands, wetlands, ponds and lawns that make up our property. Often a visitor will come to the shrine to spend time among the century-old trees or search for a favorite wildflower or bird. Being close to Lake Erie puts us on the path for various species of migratory birds.
Thanks to many long hours of work from dedicated and talented volunteers, we are slowly working to make our woods healthier. The services of several people who worked in soil and water conservation as well as the innate wisdom of successful farmers have proved invaluable in improving the overall condition of our property.
Working to reestablish drainage ditches has improved the problem of standing water. Evaluating the condition of countless trees is a constant challenge. The continuing removal of invasive species of plants is helping native plants to thrive. An old logging trail has been reopened, enabling access to previously inaccessible areas. Identifying tiles and establishing which are working and those that are not will lay the foundation for better drainage around buildings and parking lots.
These along with other undertakings are helping us to preserve the natural heritage Fr Brunner left to us.
As we look to the future ministry of the Sorrowful Mother Shrine, we believe it is important to be good stewards of the lands entrusted to us. The C.PP.S. have always valued farmlands, and woodlands and taking good care of these treasures is something we value at the shrine.
Plan a visit to the shrine this summer! For more information, visit their website.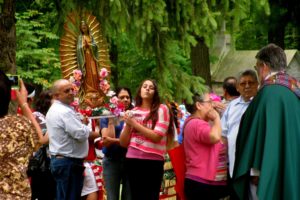 Nature's greenery provides a lush background for prayer and processions at the shrine.