The following is reprinted with the permission of The Catholic Telegraph, the newspaper of the Archdiocese of Cincinnati.
By Susie Bergman
The Catholic Telegraph
Father Eugene "Gene" Schnipke had only been ordained for a few short years, but it seemed everyone knew he was destined for a different kind of vocational service – everyone, that is, except him.
After committing his life to the Missionaries of the Precious Blood in 1980, Father Gene was appointed pastor of St. Anthony Parish in Virginia. He left the familiar comforts of Glandorf, Ohio, where he grew up the oldest of eight siblings, and began his vocational life with a desire to serve rural communities. He settled in well, getting to know the families and bonding with the local youth.
During his four years at St. Anthony, he had gotten used to people saying to him, "You should join the military," but he never really gave it much thought, although there were a fair amount of former military families in the area due to its proximity to the Pentagon. When a friend and military lawyer casually made the same recommendation, he finally asked, "Why does everyone keep saying that to me?"
"He said, 'Because you are great with young people" recalled Father Gene "and that's essentially what the military is, engaging with and molding young people."
Answering the Call
He eventually heeded the call, joined the Air Force Reserves in 1985 and began chaplain school. The Air Force appealed to him most due to its community-like base living and young families. "You have to be able to adjust well to change," explained Father Gene, "because your congregation is constantly changing with deployments. One day, you can walk into the office and your DRE tells you she's leaving Monday, and you have to find someone new. It could happen quickly, so you learn to adapt."
During his 22-year military career, adapting became second-nature, as he moved 11 times and was deployed to war four times.
"You learn not to collect a lot of stuff when you may get orders to pack it all up with a few days notice. And there were times I deployed with little to my name besides what was in my duffle bag."
This constantly changing lifestyle was the exact reason his brother, Father Ken Schnipke, who serves as pastor of the Celina, Ohio cluster of parishes, didn't follow in his footsteps.
"He would come to visit me sometimes and really enjoyed meeting the families, but when I asked him if he had considered joining the military too, he replied with a stern 'No," mused Father Gene. "He said it was way too much change for his liking."
Father Gene retired from the military in 2008 and has been serving as pastor of the Marion Catholic Community ever since. As we sat together in the quaint living room of the rectory at St. John the Baptist Church in Maria Stein, he smiled at his comforting surroundings. "I've collected a lot of stuff in the past 11 years," he chuckled.
Civilian vs. Military Priest
In describing some of the differences between a civilian priests and military chaplains, he explained that on the base there was often one chapel, shared by many faiths, that was kept in "neutral status." He explained, "There would be panels in the front of the Chapel. When the Catholics came in, they would be turned so the statues of Joseph and Mary would be shown. When the Catholics were done, they would be turned back around. Additionally, there would be a crucifix on a pulley-cable. Then when the Catholics left and others came, the crucifix would be pulled to the side so that a plain cross would be visible."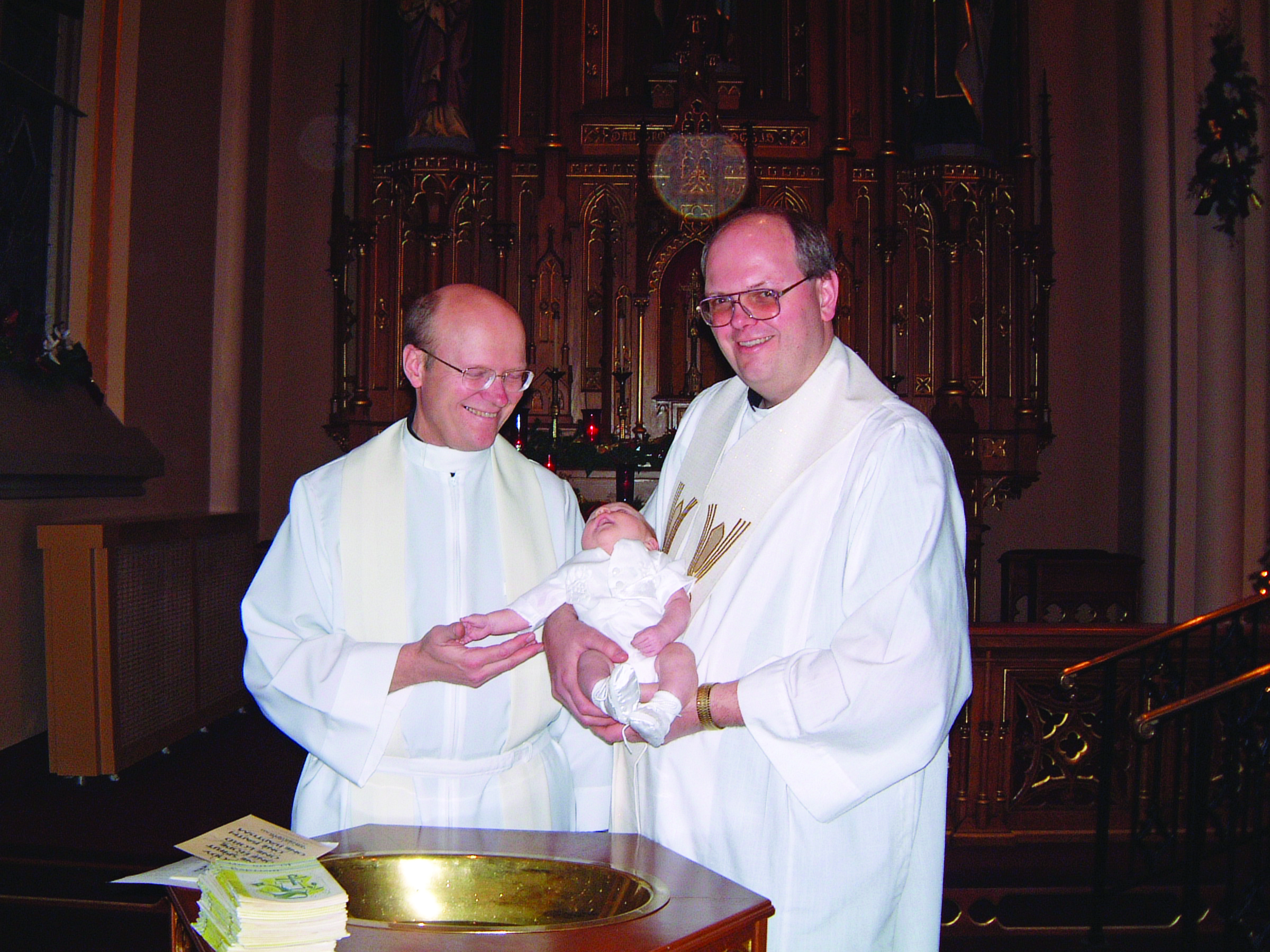 Lasting Impact
During our time together, it was clear to see how the people Father Gene has met and ministered to over the past 30 years have impacted his life. He showed me photos and told me stories of military families he has known for many years and with whom he still keeps in touch.
He recalls sitting at an airport recently when a woman came up to him and said "Father Gene, is that you?" He admitted he didn't remember her at first, as they had only been on the same base for a short time, but she remembered him and the impact he made on her life.
He admits he does miss meeting new people so often, but not the constant change that came with it. "My life here now is good, and so are the people. Most don't know I was in the military unless they have picked up on it in my homilies."
He may not speak of it often now, but it's clear God had a specific vocational plan for Father Gene when He guided him to military ministry: to serve those who serve our country and defend our freedom. And countless people are better today because of it.