By Barry Fischer, C.PP.S.
I'd like to give an update on the two-year college commonly known as "Saint Joe Indy." This new college is a result of a collaboration between Saint Joseph´s College of Rensselaer, Ind., and Marian University in Indianapolis.
This new initiative intends to respond to three issues facing higher education today: access, workforce and student success.
Access: The increasing cost of higher education and the debt load students today carry once they graduate is a major factor in why many young people today are looking for alternatives other than the traditional four-year college. Saint Joe Indy addresses this challenge by keeping the yearly per student cost at $17,000. Even this can be lowered through grants and from the work-study (earn/learn) model.
Workforce: Here at our college, we are partnering with different businesses that hire our students on the days they have no classes. The student is guaranteed to earn enough money in these workplaces to cover almost the entire cost of the year at Saint Joe Indy. The professors at the college tailor the courses offered to make them relevant and to develop the skills and competencies that are needed in the workplace. This program will then help the students decide whether they wish to go on for a degree at Marian University or another college; go into the workforce after they receive their associate degree; or go into the workforce, having discerned that their pathway to success is through a career.
Student Success: Saint Joe Indy aims to achieve a high retention rate of those who finish their two-year program.
This is the first year for the new college. We began the 2019–20 academic year with 34 students, 32 of which are from Indianapolis and with two living outside the city. Most are commuters, but a few do live on Marian campus dorms.
Goal for the 2020–21 academic year: Now that our name is getting out there, the number of inquiries has spiked. To date we have more than 50 who have already been accepted and more are expected. The hope is to have some 75 new students by this summer. With a growing student population, the current building that houses the college will offer classes four days a week: Monday and Wednesday for the incoming class, and Tuesday and Thursday for the second-year students.
As the college gains traction, recognition and success, the college will soon outgrow the capacity of its current buildings. A nice challenge to face in this day and age!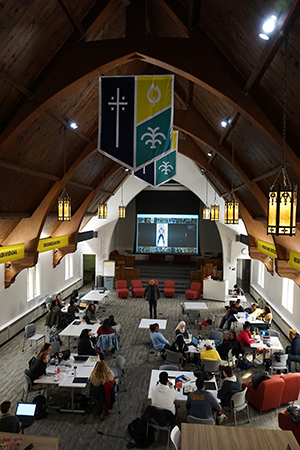 As chaplain at Marian University, I am also chaplain of the two-year college. Our campus ministry team is searching for ways to serve the needs of this new population of students and also to help them feel part of and integrated into the larger Marian community.
Keep us in your prayers as this new initiative continues to evolve and grow!