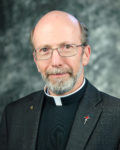 We asked some of our Missionaries about the biggest challenges and the unexpected joys of these strange days. The following insights were provided by Fr. Ken Alt, C.PP.S., pastor of the Church of the Most Holy Trinity in Trinity, Ind.:  
What's been the biggest challenge? 
The challenge in ministering is the reality that the suspension of Masses/religious services, plus the social distancing protocols, etc., have brought many opportunities for ministry to an abrupt halt.   
What's been an unexpected joy? 
An unexpected joy was when a couple from the parish and their five children dropped by with a delicious "care" package, which brightened my day with wonderful smiles, a bit of conversation (at a distance),  loads of thoughtfulness, and sufficient food for two humble meals. 
How are you caring for your own spiritual, physical and mental health these days?  
I have good/extended times for personal prayer each day, along with wholesome reading with an engaging book entitled The Call to Holiness, Embracing a Fully Christian Life, by Richard M. Gula, S.S. I've also been getting outdoors in the spring weather for walks or old-fashioned work in the yard and flowerbeds, and even catching Jeopardy from time-to-time.