We asked some of our Missionaries about the biggest challenges and the unexpected joys of these strange days. The following insights were provided by Fr. Matt Jozefiak, C.PP.S., Pastor of Sts. Peter and Paul Parish in Ottawa, Ohio: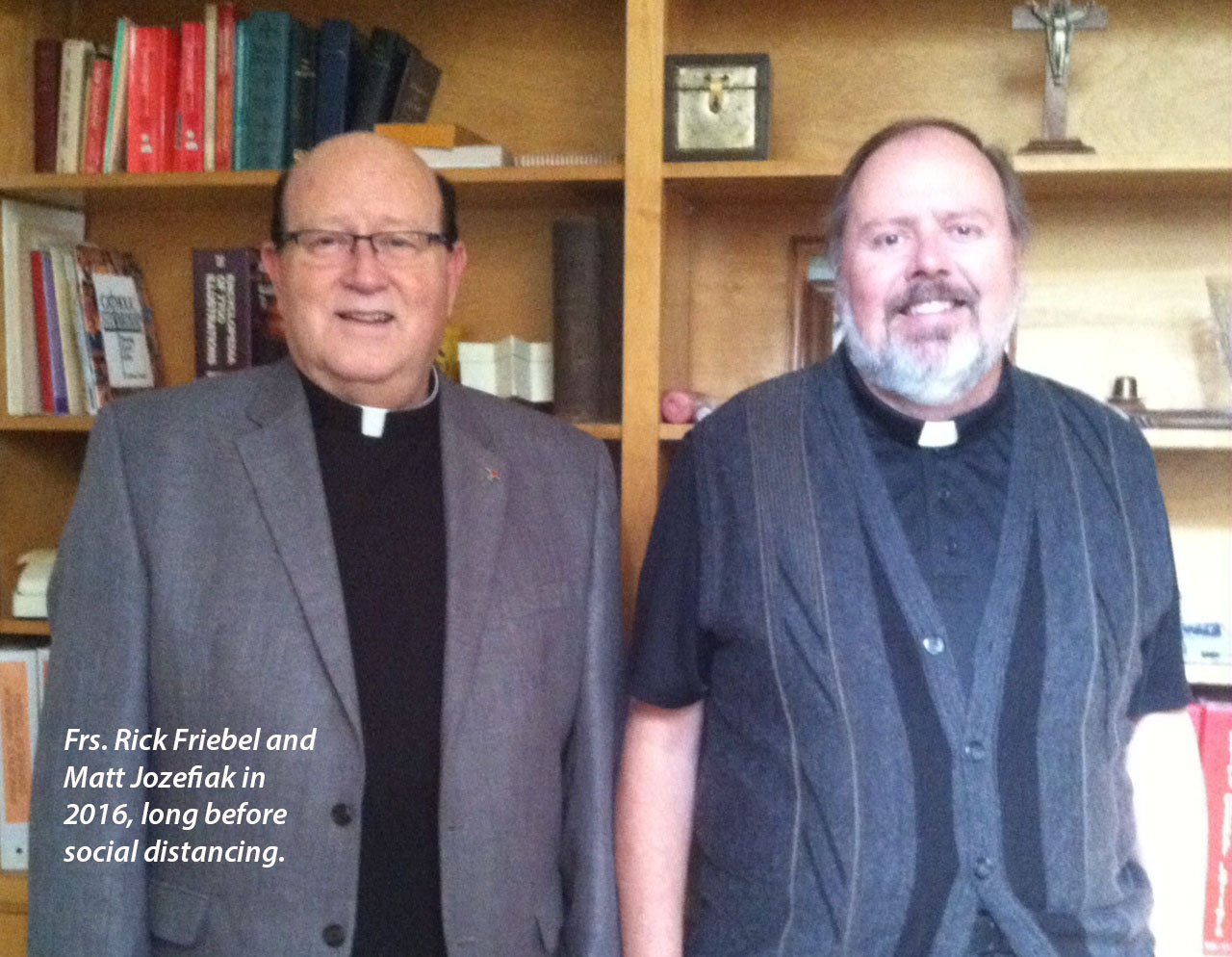 What's been the biggest challenge?
The biggest challenge before we closed our doors to the public on March 23 was getting all the staff prepared to work from home, both the teachers at our parish school and the parish staff.  They did a great job. We worked with the diocese about compensation for our hourly workers and that was a challenge, but we have plans for the next several weeks. Our contract employees will be paid.
It was also a challenge for me to get trained in taping our daily Mass and learning to livestream.  Now I feel comfortable with the technology. We just had Wifi installed in the church right before this all happened, so that was a blessing. But it is different offering mass to an empty church.
What's been an unexpected joy?
The parishioners who use Facebook have been so appreciative of all the steaming and taped opportunities to pray and connect. We did a Catholic trivia stream and they want to do it again. We also had a session with our RCIA elect on Mary and the saints via Zoom. They feel sad that their entrance into full communion with the Church has been delayed. One, I conditionally baptized at the hospital and then anointed. The candidate recovered to return to home.
Finally, the many confessions Fr. Rick Friebel and I have been hearing via drive-through has been edifying. It's one sacrament that we can still offer with relative safety and people are so appreciative. I had a van show up from another town and one after another came forward from the same family. I lost count after nine.
How are you caring for your own spiritual, physical and mental health these days?
Personally, I continue doing what I have been doing. Having daily Mass, doing my daily holy hour before the Blessed Sacrament, livestreaming prayer with my rectory staff, something that we've been doing on Tuesday and Thursday mornings for the past five years.
I get together with protestant ministers in our area; we meet each Thursday through Zoom. I went to confession to Fr. Tony Fortman in Glandorf one morning from my car.
Walking my dog, Jackie, in the neighborhood has helped me get out, and I say the rosary.  On one walk, I heard a confession at a stop sign.
I have tried to stay away from watching too much news. I learned that during Hurricane Katrina years ago. I had depression because I got sucked into all the pain down south.
With all the other distractions gone—sports, eating out, movies, travel, vacations—this social isolation has been a great opportunity to allow Jesus to get deeper into my soul.
Fr. Rick Friebel and I have had to go and minister to some dying parishioners.  Fr. Rick has celebrated two funerals and we know that two others are imminent.  It's sad that families have forego wakes and have just a few people in attendance at the Mass.  But, this is all part the Paschal Mystery in which we participate.