By Fr. Harry Brown, C.PP.S.
We pray in the Creed: "He ascended into heaven and is seated on the right hand of the Father." Today we are truly happy because Jesus went home—bodily—to his Father's heavenly home.
The scene in Acts is more or less his final apparition to the Apostles, when the latter were encouraged to "get busy" proclaiming the Good News rather than just stand around staring into the sky.
Scholars interpret the Ascension theologically as Jesus' return to the Father and being seated at his right hand. It's interesting that St. Leo the Great says that "Christ's Ascension is our own ascension; our body has the hope of one day being where its glorious Head has preceded it."
What should the Ascension really mean for us? It is a feast that reminds us of the eternal life we are called to—pure and simple. This solemnity calls us to celebrate the truth that Jesus Christ, after his death and resurrection, completed his mission on Earth and prepared his Church for the upcoming event of Pentecost.
And yes, we hear about the 40 days and Ascension. This "forty" throughout the Bible never refers to a specific numerical value. Scholars say there are 16 references to forty days or forty years in the New Testament and over 70 such references in the Old Testament. We are now focused on 40 days after Easter—the Ascension.
When praying the Glorious Mysteries of the Rosary, we know that the second mystery is the Ascension. To me this was always a "let down" between the Resurrection and Descent of the Holy Spirit. Somehow the Ascension was no match. But it truly is a match. It is Christ telling and commissioning us to be His witnesses to the whole world—to be my heart and my soul, my right and left hand. Get busy!
Don't stand around looking up! The corona pandemic should result in us all being better witnesses.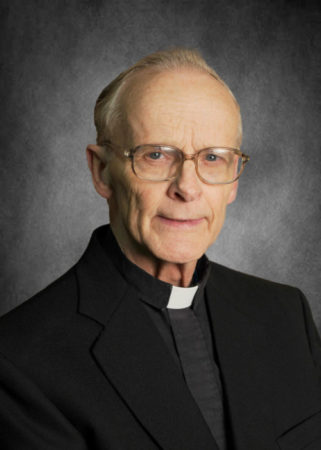 Fr. Harry Brown, C.PP.S., is in ministry at the Sorrowful Mother Shrine in Bellevue, Ohio.