Solemnity of Saint Gaspar
By the V. Rev. Jeffrey Kirch, C.PP.S.
Today we celebrate the Solemnity of St. Gaspar del Bufalo, who founded of the Missionaries of the Precious Blood in the small town of Giano, Italy, in 1815. At that time, Europe was in turmoil. The Napoleonic Wars had caused a lot of destruction across Europe, including great harm to the Church. When peace returned, the Church itself had to heal. Gaspar was sent out by Pope Pius VII to give popular missions, which he and his Missionaries conducted in small towns across the countryside.
To Gaspar, one of the essential things about the missions were the "works of perseverance," which was his term for the associations of the faithful that the Missionaries would establish during each parish mission. Those associations would continue to meet and pray together long after the Missionaries left their town, so that the fruits of the mission would not fade away.
Like St. Gaspar, we might place a high value on our work outlasting us. Most of us want to leave some sort of legacy. We work to improve the world and we want it to stay improved! That may be beyond our pay grade. The future (as well as the past and present) is in God's hands, of course.
I do believe that St. Gaspar would be pleased and gratified that his Congregation continues over 200 years after he founded it. Some of us even continue to preach parish missions! We thank God for St. Gaspar's many gifts and especially his vision that what began as a small group of Missionaries would proclaim the Precious Blood of Jesus throughout the world. May we remain true to that vision and continue to say in one voice: Glory to the Blood of Jesus – now and forever!
More insights on St. Gaspar and how he conducted parish missions can be found in An Acceptable Time: The Method of Popular Missions According to St. Gaspar del Bufalo, by Beniamino Conti, C.PP.S., translated by Fr. Jerry Stack, C.PP.S., soon to be released as C.PP.S. Resource 37.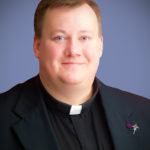 The V. Rev. Jeffrey Kirch, C.PP.S., is the provincial director of the Cincinnati Province. Previously, he served as the secretary general of the worldwide Congregation and was also in ministry at Saint Joseph's College in Rensselaer, Ind., of which he is an alumnus.