By Fr. James Smith, C.PP.S.
The sights and the smells. Holidays for me usually call to mind memories of certain smells, tastes, or sights from years earlier in life around those times.
2020 stands out quite differently from years past, but for some reason I keep going back a particular sight and smell: hot dogs in a stale bun and a 20-ounce bottle of Cherry Coke. I know, it's not exactly something from the plot of a Hallmark Christmas movie, but hear me out. For folks who know me, it would not be a surprise that I was an overachiever in school. What might surprise folks who know me today is that a lot of that over-involvement in school was sports, and at least half of that was running the clock for all middle school basketball games – yes, eighth grade, seventh grade, sixth grade, ALL basketball games. My payment from Vice Principal Cullen was a hot dog and Coke.
Christmas largely brings back to mind memories from years ago. Childhood joy and amazement may be back in the recesses of our minds. Loss and sadness may be there too because of those not here with us this Christmas. The growth and need for "Blue Christmas Services" makes sense. In this tapping of our memory at this holiday, we sometimes become wrapped up more in what was or what we remember was than what is.
Across the readings for Christmas, we hear of the birth of Christ. For fun, I highly recommend choosing the vigil Mass readings, mostly to watch a deacon or priest run a sort of 110-meter high hurdles with the genealogy from Matthew. Regardless of which readings we hear for today, we hear that God is with us, Emmanuel. This isn't a memory of God becoming present among us. This isn't the famed family story, passed down from generations ago. This is today. This is God present in our lives. This is God's presence in our flesh.
At some point in my endless scrolling online, a video popped up on my page. In it, a 17-year-old high school student is given a small gift: a pair of glasses. The young man, probably close to my age when I was running the clock and scoreboard at those middle school basketball games, sees colors as they are for the first time, having been colorblind all his life. If you listen closely, you can hear maybe the most mom comment possible: "Don't break the glasses!"
This Christmas, may our eyes be open to seeing God present among us.
To view the full scripture reading, click here.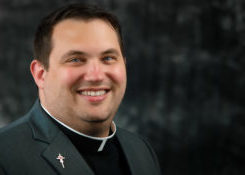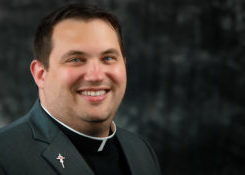 Fr. James Smith, C.PP.S., is a student at Graduate Theological Union pursuing studies in pastoral and practical theology. A 2009 graduate of Saint Joseph's College, Fr. James was ordained in 2017. He resides at the C.PP.S. Sonnino Mission House in Berkeley, Calif.