St. Joseph's story, what we know of it, is defined by babies. There's the startling pregnancy of his betrothed, Mary, that he had to reconcile in his own heart, with the help of an angel. Then there was the miraculous birth of the Christ-child, of which he had to engineer all the earthly details of food, lodging and security for his new little family. Then the flight into Egypt to protect the baby from a blood-thirsty king.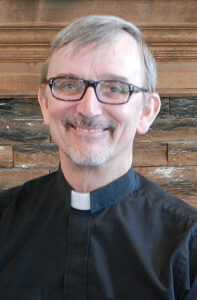 In a way, Fr. Joe Bathke's early story is also defined by babies. Fr. Joe, a member of the Kansas City Province, was born to a family in a small Wisconsin town. He was the oldest of eight siblings.
"Because I spent so much time on my grandparents' farm I learned very early about life, how it came about and how it was nurtured." Fr. Joe said. "From the day I was born, March 5, 1950, until my sister, Cathy was born on January 25, 1960 my mom had seven more babies."
Those times when a baby was on the way were always times of great anticipation for Fr. Joe, who always wanted a little brother. But they also became times of trial due to a condition related to Rh factor (a sometimes lethal conflict between the blood of the mother and the child she is carrying).
"Today, the condition is treated by a shot given to the mother that actually reverses the Rh factor to its original condition in the mother. However, in the 1950s, this treatment was unavailable," Fr. Joe said. "I and my sisters Pat, Mary and Cathy were lucky and were born without difficulty. My sister Sara spent an extended time in the hospital as an infant and my sister Joan, because of complications at birth, deals with permanent deafness.
"My two brothers died shortly after birth. Even to this day, this is my greatest heartbreak. I had had four sisters already and when I learned my mom was expecting, I was sure it was going to be boy, my long-expected brother. . .
"When the big day came at last and mom went to the hospital I was ready. When dad came home from the hospital he did not have to say a word. I, we, all knew what had happened. Our brother had died shortly after birth." This sad story was repeated once again.
"The loss of those little brothers was a really sad time for me and for the whole family," Fr. Joe said. "One of them (the fifth sibling) was named David. My mother couldn't bring herself to name the second brother."
To grow up having known such heartbreaking losses, to have seen some of his baby sisters struggle for life, to see his parents mourn their lost sons yet still say yes to new life—it had to be part of what shaped him as the open-hearted, intuitive Missionary he is today.
Fr. Joe, who was ordained in 1978, is now the pastor of Sacred Heart Church in Warrensburg, Mo. He has also ministered as a hospital chaplain and as director of initial formation for the Missionaries. He happily carries the name Joseph, "a good, solid name," he said.
Fr. Joe has come to a deeper understanding of St. Joseph as he has gotten older, he said. "One thing that has always struck me about Joseph is that he must have been empathetic. I think he truly loved Mary. He was not just being kind or charitable. He was being loving. He must have been deeply dedicated to her—he goes running around the countryside avoiding Herod. That's a choice too, you know?"
St. Joseph was able to "hold in his heart things that were difficult without allowing them to destroy him or the people he loved," Fr. Joe added. That requires wisdom and patience.
"In our world today, we find it hard to have a conversation with people, to just listen to what they have to say, without trying to bury them with our own opinions," he said. "Joseph, is a good example for how we can navigate the challenges of the world today."
To read more about our Josephs and their connection to St. Joseph, click here.