Thomas Gustin, Amicus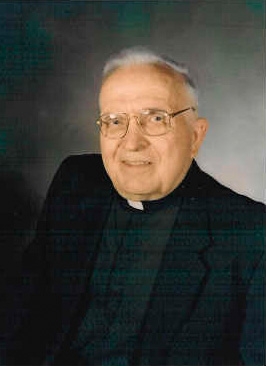 "If he's so smart, how come he's not rich?"
This tagline in a large bold font covering the lower half of a full-page advertisement asked a very important question. It included a wonderful picture of Fr. William J. Kramer, C.PP.S, L.Sc.N., Sc.D. Oh, lest I forget (as if that were possible), Fr. Bill was also my uncle. The subhead of that ad continued: "Imagine! Teaching with a doctorate for $50 a month!"
Perhaps some may have believed that Fr. Bill was not wealthy, as asserted by the advertising text. I'll address this topic later as I share my experiences of Fr. Bill with you. Keep in mind that I was never one of his students, so my experiences may be different than those who knew him from the classroom.
Fr. Bill was wise as well as smart and he was an extremely effective teacher. Many considered him to be a genuine Renaissance man.
Students at Saint Joseph's College, where he taught for so many years, remember him working on the chapel organ. He was also on the staff of the respected publication Philosophy Today, translating many articles from German.
Fr. Bill lived a full and creative life. He taught more by his loving deeds than by his spoken word, even if he taught so much by the spoken word.
Fr. Bill was the richest man I have ever known. He shared himself and his wisdom and scientific knowledge in a lifelong ministry of love for his students and others. Anytime and anywhere he was ready
to offer you his attention, empathy and friendship. This 1was Fr. Bill sharing his personal wealth.
His warm and loving encounters with people speak of how rich he truly was. He freely shared these riches with many, in his teaching and in other ways in which his actions revealed the wealth of his love.
Thank you, Fr. Bill. You were smart, but you were also rich, and we are all grateful that you shared your treasure with us.