Lent is a special time of the year at the Sorrowful Mother Shrine in Bellevue, Ohio. The shrine is sponsored by the Missionaries of the Precious Blood.
During Lent, in addition to having a confessor available for an hour before every Mass, the shrine offers confessions on Tuesday evenings for an hour. On all the Fridays of Lent, worshippers pray the Stations of the Cross before the 11 a.m. daily Mass.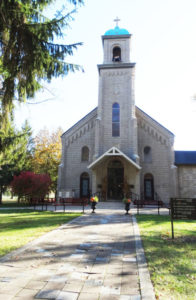 On Saturday, March 27, the shrine will sponsor a day of recollection with presentations by Fr. Yuri Kuzara, C.PP.S. The day will begin at 10 a.m. with a discussion on the life of our founder, St. Gaspar, and why he is relevant to the Churches of the East. After Mass at 11 a.m. and a box lunch at noon, there will be an experience of the Akathist Prayer to the Divine Passion at 1 p.m. After a period for silence and reflection, there will be an opportunity at 3 p.m. to consider Precious Blood spirituality from the points of view of East and West. For those who wish to attend there will be the regular Mass at 4 p.m.
All of this takes place on the Saturday before Passion/Palm Sunday, a fitting introduction to Holy Week.
The shrine will have the Triduum Services of the Evening Mass of the Lord's Supper, the Celebration of the Lord's Passion and the Easter Vigil of the Lord's Resurrection. Starting on Good Friday and extending through Easter Saturday, the faithful will pray the Novena of Divine Mercy. On Good Friday afternoon, pilgrims will pray the Stations of the Cross outside in the afternoon.
In the evening, the shrine will have the candlelight Way of the Cross through the woods.
A very special event will be held on Sunday, April 18. Fr. Yuri will lead pilgrims in the Divine Liturgy of St. John Chrysostom on the Sunday of the Myrrh-bearing Women. This will be a glimpse into the way of prayer of many of our Eastern brothers and sisters.
To learn more about the shrine and its offerings, visit their website.