Jean Giesige, Companion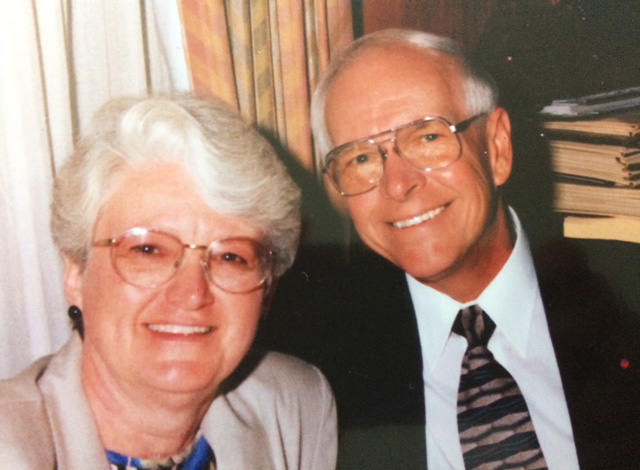 Larry Jenkins was the kind of guy who, if you were sitting next to him in chapel at a Community event, could exude an aura of total absorption and worshipful attention that indicated he was deep in conversation with his Creator. Then the minute it was over, he could turn to you with his quick smile and whisper something that would have you laughing for the next two days.
He could be serious but not always. He was exceptionally bright but down-home. He was a successful businessman who cared nothing about hoarding money. He was a family man who cherished his wife and daughters yet defined family in the broadest terms. He was a hard worker whose work would come screeching to a halt when someone asked him for help. He was a small-town kid who was absolutely at home when traveling around the world.
Larry was born and raised in Rensselaer, Ind., where the Missionaries of the Precious Blood were part of the landscape. He was an altar boy at St. Augustine Parish, where Missionaries were pastors. They also served at Saint Joseph's College, where Larry would become involved later in his life. When the Missionaries decided to form groups of lay associates, called Companions, in the early 1990s, Larry and his wife, Sharon, were among the first to be invited.
It was natural for the Jenkins' to say yes to the invitation, because they said yes to nearly everything that God asked them to do, including to each other. They met in high school, when Larry was a senior and Sharon a junior. They sat next to each other on an art class trip from Rensselaer to Chicago, and that was the very beginning of a 48-year relationship, 45 years as husband and wife, companions to each other first.
They were married in 1964, after Larry served in the National Guard and attended barber school. He went to work in a barber shop in Rensselaer and Sharon worked next door at the bank. "We ate lunch together every day," she said.
Life went by in a blur for the young couple. "Four years and one week after we were married, we had our third baby," Sharon said. Larry was working hard and doing well but long hair was coming into style and he had a growing family, daughters Jenifer, Jynell and JoAnn. Another barber suggested that Larry become a realtor in addition to cutting hair, because "barbers know everybody in town" and he could schedule his appointments for his two careers so that they wouldn't conflict.
That was the start of Jenkins Realtors in Rensselaer, where Sharon and eventually their daughters also worked. (Their daughters now manage the business.)
To his family and his work, Larry added many other layers of Christian living. He was active in the parish, serving on the parish council and as a Eucharistic minister. He played the guitar for the parish's folk group. He and Sharon taught religious education classes in their home. They met Br. Tim Hemm, C.PP.S., when he was ministering to the youth at the parish, and soon were helping him with retreats and other activities.
"Larry and Sharon were involved in everything," said Br. Tim. "They were so hospitable. We always knew their house would be available. They hosted many gatherings and were so involved in our ministries. They were natural as Companions."
Br. Tim called Larry "a go-to guy. He was the consummate businessman, but he always had his feet on the ground."
Those qualities led Fr. Bill Nordenbrock, C.PP.S., the first Companions director, to ask Larry to serve on the new Companions advisory council, which would help shape the movement. It was unformed in the beginning, intentionally so, but as the Community added more Companions it felt the need for guidelines and guidance.
Larry brought logic, faith and a wealth of experiences to those meetings. Both practical and spiritual, he had an innate sense of what the faithful would find appealing about becoming a lay associate, and what a covenanted relationship with the C.PP.S. might mean in their lives. His insights were invaluable and his patience with the process was epic.
Meanwhile, he continued to be a leader at home and at work. "Larry was brilliant. He was a risk-taker in a good way," Br. Tim said.
To Larry, life was all about keeping people connected. And the best way to do that was with his own broad grin and listening ear. "He kept an eye out for people who were down-and-out, living paycheck to paycheck," Br. Tim said. "Larry was always willing to fill in the blanks to help them out."
The Jenkins' hospitality, their care for others, including and especially those who were struggling, made them a great example of Precious Blood spirituality, said Fr. Denny Kinderman, C.PP.S., who followed Fr. Nordenbrock as Companions director.
"Larry had a gentle spirit and was always open and attentive," he said. "Yet he stood his ground during Companion gatherings and advisory council meetings. Precious Blood spirituality gave depth to his insights as he held all he was involved in near to his heart. His Precious Blood spirituality brought close those who were wavering or unsure through his unifying love and welcoming presence. I believe Larry was a model Companion, portraying all that had been hoped for as the Spirit that moved Gaspar also moved our province to embrace lay associates."
Br. Tim agreed, about both Larry and Sharon, who did everything together. "They were Companions' Companions," Br. Tim said. "They were the best."
Larry died at age 66, far too young, but he'd put to good use the many gifts God had given him and shared all he had with others. He passed away after a valiant battle with cancer, which Sharon unflinchingly helped him fight, on July 1, 2009—the Feast of the Precious Blood.
View more stories of inspirational Precious Blood people.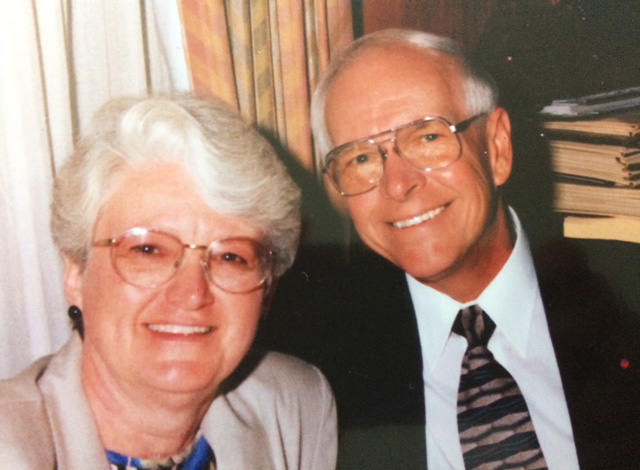 (Jean Giesige, a Companion with the group in Celina, Ohio, was privileged to have served with Larry Jenkins on the Companions Advisory Council.)