When Br. Antonio Sison, C.PP.S., took part in the Procession of the Black Nazarene in the Philippines, he was transported, and not just by his feet.
He'd seen the famous annual procession on television, but never was part of it before he traveled to Manila in 2018 while he was on sabbatical. "It was life-changing," he said, "to experience the way that people live their theology." And not only in his native Philippines, but also in Nairobi, Mexico and Spain.
"I went to those places to immerse myself in local religious practices, to see the people's religious art. And I found that the religious images I saw became portals for me into theological reflection," he said.
The result of his five-year pilgrimage is his book The Art of Indigenous Inculturation: Grace on the Edge of Genius. Published by Orbis, the book will be available in June.
The book is his passion project, "an exciting journey, not just sitting and writing a book. I went to these places alone, almost literally backpacking and time-traveling, finding the people's cultural identity through religious art and ritual," he said. "It was such a rich experience, such a heady activity for me."
At each stop along his journey—a journey that began in Chicago, where he makes his home at San Felice, the Community's formation house, and teaches at the Catholic Theological Union—Br. Antonio serendipitously found a piece of religious art that opened the door for him into a wider, deeper world of faith.
"The very first object I studied was a mural in the Latino community of Chicago," he said. "It was a three-panel mural on the side of a laundromat, a part of ordinary life in that neighborhood."
One spiritual discovery led to another. "Each piece of art would lead me to another, through many surprising turns, and each became a theological reflection."
In Mexico, he experienced the devotional fervor surrounding the image of Our Lady of Guadalupe. From there, he traveled to Extremadura, Spain, where he visited the "Old World" Guadalupe Virgin, the namesake of the Mexican image. On a trip to Nairobi, his reflection was sparked by "Hekima Christus," an altar piece depicting the resurrection of an African Christ.
"That opened a window for me to look into the ancestral heritage of t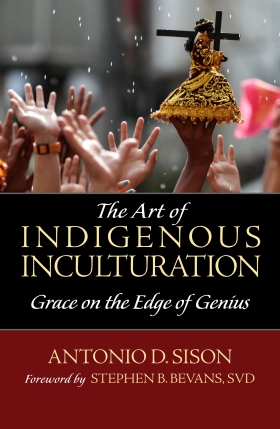 he indigenous culture," he said. Window after window opened through religious art around the world.
The resulting reflections were based on how a local culture, often mistreated or forced into a new faith by missionaries, would find in the Gospel message something illuminating, something they could love and make their own. "The nature of the Gospel is prophetic," Br. Antonio said. "In the Gospel the people found salvation for themselves and it resonated for them. That cannot be denied. Even if it was forced on them, they still found pockets of grace in it.
"It was so moving. In many of my travels, I was in tears when I discovered the sheer grace in people who have suffered a lot, but find incredible ways to affirm who they are. It's a beautiful journey."
Readers are invited along in a work that Br. Antonio hopes is accessible enough for a spillover readership beyond academia. "The book is as much personal as it is academic. I hope this is noticeable by the reader," he said. "I know that theology is dry as dust for most people. I tried to be creative in the way that I wrote."
Every part of it—the traveling, the research, the writing—was rewarding, he said. "This is my passion project. I put everything into this effort," he said. "I was joking with Bob (Fr. Robert Schreiter, C.PP.S., his CTU colleague and mentor), 'I can die now that I have written this book.' Hopefully, I won't!"
Br. Antonio chose to submit his manuscript to Orbis Books, the publishing arm of the Maryknoll Fathers and Brothers, because he knew Orbis would produce a book that would be affordable. It will sell for $30.
"Some of my friends were suggesting university presses, for the prestige. I understand that mindset because that's how academics think," he said. "But my dream for the book is that it reaches Third World scholars and theologians. I've been there; I was that scholar. Most of the theology books are photocopied because such books are so expensive. From the beginning I was thinking, 'This has to be an Orbis book.'"