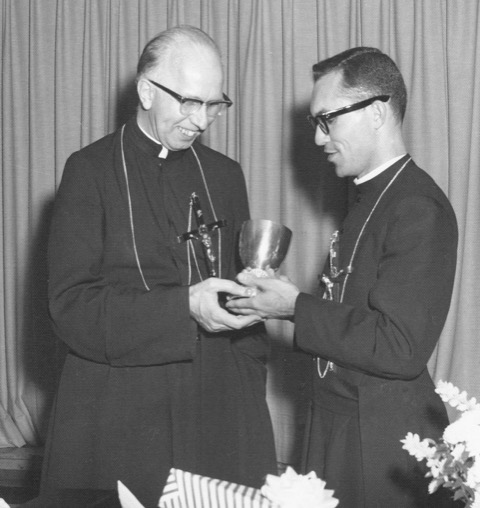 Harry Allagree, Amicus
It was most likely in the summer of 1956 that Fr. Robert Lechner, C.PP.S., then 38, began publishing Philosophy Today, a new international journal at Saint Joseph's College, Rensselaer, Ind. I was a college freshman that year and through July 1957, prior to our year in the novitiate. He knew me from serving as my spiritual director and recruited me to be his first typist/secretary. This journal was considered to be of high quality in both content and appearance. Fr. Bob was really on the cutting edge of the philosophical and theological trends developing at the time. The journal was a significant contribution to people in the academic world and in the Church.
Most of my work entailed typing manuscripts along with more mundane tasks, such as keeping the metal mailing address plates properly organized and slitting open the pages of the many other foreign journals and books to which Fr. Lechner subscribed.
Candidly, Bob was not the easiest person to work with. At times he could be extremely demanding, as I recall from spending many weekend hours retyping manuscripts and other documents! In later years, however, I came to appreciate why he had to be tough. The pressure on him to produce such a quality publication must have been immense, and he often had to depend on me to help meet the deadlines he had set.
Yet despite the occasional tension, even disagreements, it was a singular privilege to work for Fr. Lechner. Occasionally, he asked for and listened to my opinion. It was truly an invaluable educational experience: being exposed to significant names (both religious and secular), trends and languages in philosophy and theology. Both as my spiritual director and my boss, Bob also instilled in me an appreciation for contemporary liturgical art and kept me abreast of important things taking place in the Church, the latest books on spirituality, as well as many interesting stories of his personal experiences with great pioneers in the Church, such as Dorothy Day, co-founder of the Catholic Worker Movement.
Bob loved using blue or brown typewriter ribbons, rather than black, and multicolored pens for writing. As a typical adolescent in awe of him, I confess to imitating him in this regard. During most of those two years of college I used aqua-colored ink in my pen and soon switched to blue or brown typewriter ribbons, even green later on!
When I returned to St. Charles Seminary in 1960 after living as a Trappist novice in Utah for three months, Bob gave me the opportunity to translate two articles which were published in Philosophy Today. When I was ordained a priest in May 1964, he preached at my First Mass. I figured that a number of my classmates might be asking the same favor of him, so I'd gotten my bid in early! Since he rarely had his picture taken, I'm so grateful to have had one taken of him and me at the First Mass reception, standing together wearing the C.PP.S. mission cross, smiling and looking admiringly at my new chalice made in Germany.
Fr. Lechner endeared himself to many in the Community by his impishness and the gusto with which he relished the humorous. We often thought some of his jokes were terribly corny but perhaps most adolescents think that of their elders. Bob had a great appreciation for the outlandish in situations. He had a hearty way of laughing but he could also switch gears quickly and revert to discussing things sublime.
One of Bob's greatest gifts to me, one which has had ripple effects down to the present, was a copy of the Writings of Edith Stein, a collection of her work by Hilda Graef, which he gave me at Christmas 1956. I've read the first selection, "The Mystery of Christmas," nearly every Advent since 1956. It has a timeless message about readiness and living our lives fully in God's grace. In view of later events and Edith's tragic end, it has an eerie, prophetic quality.
In 1998, Bob took delight in the report of my travels to the Carmel of Cologne, where I spent the morning in the Edith Stein Archives and where I held in my hands her unfinished manuscript of Kreuzeswissenschaft [Science of the Cross] on which she was working at the time of her arrest. I went to Rome for her canonization in October 1998, and I sent Bob a large poster of her along with a smaller holy card as well as a copy of the video I'd taken of John Paul II at the canonization ceremony.
Bob never had the chance to reply. By that time, he'd begun having problems with his heart, which led to a successful triple by-pass surgery, then to complications and his unexpected death on February 22, 1999, eleven days after his 81st birthday. His last communication to me had been just before I left for Rome in October 1998. At the end of his note he says, "Have a great trip. More on your return."
I plan to hold him to his word when I rejoin him in the presence of the Risen Lord!
View more stories of inspirational Precious Blood people.
Amicus Rev. Harry Allagree served the Episcopal Church in northern California and is now retired in Sonoma County, Calif.