By Fr. James Smith, C.PP.S.
Love is in the air. It seems strange to encounter this much love in the readings outside of mid-February. I guess it still fits, though, with this weekend being Mother's Day. It is always a tricky task to navigate around the holidays of our everyday lives—Mother's Day, Labor Day or Presidents Day (especially the mattress sales!)—and the liturgical schedule.
This Easter season we are reminded of the commandment(s) from God—love. Since we're breaking out of the resurrection stories at this point in Easter, it might be fair to say that today's Gospel should be sitting next to the parable that follows the description of the pinnacle of the law: You shall love the Lord your God with all your heart, with all your soul, with all your strength, and with all your mind; and your neighbor as yourself. That parable of the certain man traveling from Jerusalem to Jericho concludes with the simplest of questions: Who was his neighbor? The answer goes along the lines of mercy.
A lot of our religious imagination in the U.S., I think, has greatly been shaped by the world around us. Our kids have moved from playing on the streets in front of houses to playing in front yards to playing in fenced-in backyards. Bowling Alone captured a brief moment of awareness of how individually-centered we were moving decades ago. I know in my own prayer life, talk about God's commandment, invitation and call makes me think of myself. Where is God in my life? I ask or get asked in spiritual direction. I rarely have a good answer, though I always have a good cup of tea.
Jesus's invitation and commandment to his disciples this Sunday isn't to a bowling team of one, but rather to his disciples together—huddled in fear, behind locked doors in much of the resurrection stories. Jesus invokes the same imagination he stirred at the last meal he shared with his disciples before the isolated—and individually—separate paths of Good Friday. I have called you friends, Jesus reminds them. It is this joy, this complete joy, into which Jesus calls his disciples—not as individuals but as a community around them.
A couple of years ago, my imagination around the word love changed. Sitting in a Taco Bell before a movie, I was crying. The words off the pages of a book shattered and reassembled my heart in ways I didn't know a book could. Near the end of that book, Between the World and Me, Ta-Nehisi Coates writes:
We are entering our last years together, and I wish I had been softer with you. Your mother had to teach me how to love you—how to kiss you and tell you I love you every night. Even now it does not feel a wholly natural act so much as it feels like ritual. And that is because I am wounded. That is because I am tied to old ways, which I learned in a hard house. It was a loving house even as it was besieged by its country, but it was hard. Even in Paris, I could not shake the old ways, the instinct to watch my back at every pass, and always be ready to go. (Between the World and Me, p. 125)
May our woundedness open our hearts to God's generous love and to our world in need of this mercy extended to our neighbors.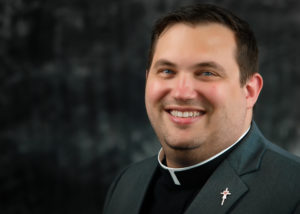 Fr. James Smith, C.PP.S., is a student at Graduate Theological Union pursuing studies in pastoral and practical theology. A 2009 graduate of Saint Joseph's College, Fr. James was ordained in 2017. He resides at the C.PP.S. Sonnino Mission House in Berkeley, Calif.