By Fr. Tony Fortman, C.PP.S.
I remember traveling down to Corpus Christ, Tex., with my family when I was 12 years old. My grandparents spent the winters down in Brownsville, so one Christmas my family decided to take off for Texas in a pick-up truck with a camper on the back and enjoy the oranges and warm weather. We also found a chain of fast food called Whataburger. Those hamburgers are just as good as Whoppers. Corpus Christi has a beautiful beach on the Gulf of Mexico. That was a true gift for an Ohio boy in December.
God wants to send many blessings to you and me. We experience these blessings by our willingness to go on adventures. I experienced much of God's goodness by spending time with my family. I treasure my youth and my parents and brother. My grandparents were so good to me and fed me well. Give thanks for your family and friends. You only have them a little while.
Adventures take us to unknown places but God always goes before us. I think many of us are scared of the unknown. We may have ideas of the future but we really never know the true outcome of our adventure.
I find today's Gospel interesting. Jesus sends two of his disciples into the city to prepare the Passover meal. They found an upper room furnished and ready. When God sends us on a mission, he prepares our way. The Lord gives us tasks that we can do and accomplish. Sometimes the tasks are not easy but the Lord gives us the grace and blessing we need to carry out his holy will.
God gives us food for the journey. He may give you a Whataburger or Kentucky Fried Chicken on your adventures. But the true bread from heaven is Jesus' body and blood. Hamburgers may take care of our physical nature but Jesus gives us his body and blood to strengthen our souls.
Why do our souls need to be strengthened? Because the world is an unforgiving place. The world will eat you up and spit you out. Satan's goal is to rule this world and he will attack every follower of Christ. This is why you need the bread from heaven to heal your soul and help you press on as a disciple until the end of your earthy pilgrimage.
Let us be aware of how blest we are to receive Jesus' body and blood each day and each week. "Lord Jesus, we adore you in the Eucharist. May we always appreciate the love you have for us. May the Precious Blood of Jesus cover us and heal us."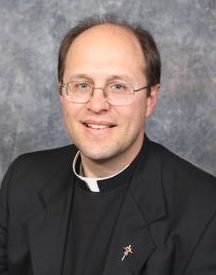 Fr. Tony Fortman, C.PP.S., is the pastor of St. John the Baptist Church in Glandorf, Ohio.