Fr. Robert J.  Schreiter, CPP.S, was a mentor and friend of Dr. Kevin Considine, who wrote the following reflection.
Fr. Robert Schreiter first was my teacher, then my mentor, and ultimately my friend.
One of Fr. Schreiter's many gifts was to revitalize paths that had been long neglected, walk on them in re-discovery, report back his findings using new tools and new languages, and then guide countless others to do the same. He studied with one of the finest minds of Vatican II Europe—Edward Schillebeeckx—and quickly became one of his finest students. So much, that he probably knew Schillebeeckx's work better than Schillebeeckx himself.
Fr. Schreiter was integral in the early academic guidance of Catholic Theological Union and in its ongoing commitment to cultural dignity, justice, intercultural communication, and shalom in this world. His many books, Constructing Local Theologies, The New Catholicity, In Water and in Blood, along with his famous works on social reconciliation—Reconciliation: Mission and Ministry for a Changing Social Order and Reconciliation: Spirituality and Strategies are the works of a master thinker and teacher.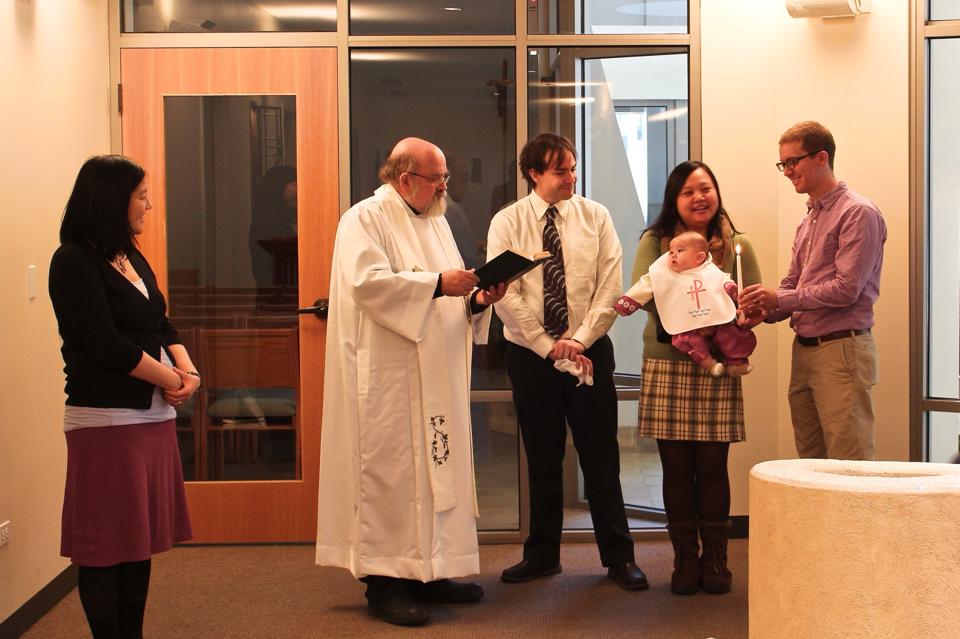 Dr.  Schreiter (or "Bob," as he convinced me to call him after many years and some exasperation on his part) practiced and embodied a spirituality of reconciliation and wisdom as a Missionary of the Precious Blood, and possessed a God-given curiosity for understanding and explaining the "big picture" of the world. As one of his students, mentees, and confreres, Brother Antonio Sison, C.PP.S., also a CTU professor, noted, Schreiter was a theological "cartographer."
Although he is globally renowned for his ministry in inculturation, intercultural dialogue, social reconciliation, and peacemaking in the aftermath of violence and genocide, to me, Fr. Schreiter's spirituality was also one of mentorship. He was the mentor of countless students throughout his life and I was privileged to be one of them. This is one of the many ways that Bob lived in the "way" of Jesus; the way of the God who is "new each moment" (the phrase comes from his own mentor, Edward Schillebeeckx).
Unlike Jesus, Bob did not seek disciples. Yet somehow we as students found him. And he accepted us and was generous with his time, talents and person. He did not desire "students" in the sense of a blank slate to write on or a lump of clay to mold in his own image. No, he wanted to teach and learn from flesh-and-blood human beings, in all of our internal contradictions wounds and idiosyncrasies.
That is what a mentor does. A mentor is the wise one who teaches and learns simultaneously, taking joy in the process of give and take, feeling intellectually threatened by no one, and showing spiritual generosity to as many as possible. A mentor has faith in their students. Perhaps more than they have in themselves. And empowers them to follow the "still, small voice" of God's Spirit wherever it leads.
In my own life, Fr. Schreiter advised my master's thesis, taught independent studies in his office, guided much of my dissertation, wrote the forward to my book, read drafts of most of my articles, and believed in me perhaps more than I believed in myself. He encouraged me to keep writing and honing my voice. And I was but one among many. By learning with us and about us, he drew energy to teach us and form us.
He was not superhuman, although his incessant traveling for much of his life made him seem that way. I remember when he returned from a particularly difficult trip to Rwanda in the 2010s, when he continued to be involved with the process of reconciliation after the genocide. On this occasion, he had spent time at the mass graves and saw many of the skulls of the vanquished. He was running on a lack of sleep. After walking into the maw of an abyss, he said that the nightmares were some of the worst he ever had experienced. He was shaken and couldn't sleep. I asked if he had a way of dealing with secondary trauma. He said he did. Still, I could tell he was relieved to speak of it with people who cared for him.
By walking with him, we attuned to his fast pace and eagerness to review forgotten or rarely tread paths. By walking with us, he adjusted to each of our gaits while making sure no one got lost or harmed by society, church, family, or our own messy humanness. What he wanted was students who would choose to walk with him and talk with him as he journeyed here and there, physically and intellectually. He wanted people to become who God made them to be and to offer his ear, his thoughts, guidance and some laughter, for however long someone chose to walk with him. Some came to meet him in Nijmegen from as far away as the Philippines and Malaysia. Many others met him at CTU in Chicago, some from as close as the suburbs. Or, for me, from an Ohio landscape that had sustained each of us at different times in our lives.
He has now joined the communion of saints and participates fully in the life of the Triune God. He passed on his spirituality of mentorship to so many of his students. We will meet again. After all, he already once trod paths in which countless more feet would follow. Paths along which my own childhood feet had shuffled and my adult feet now walk. In the cosmic embrace of the Triune God, and in the presence of students whose untimely deaths preceded him, as well as family, friends, mentors and saints, he once again is charting the way.