Fr. Angelo Anthony, C.PP.S., sent us this update about a treasure found at St. Joseph Parish in Downtown Dayton, where he is in ministry:
"We hoped to find a time capsule when we demolished the old 1873 school building at our parish, St. Joseph in downtown Dayton, last summer, but came up empty handed.
"Then came the day this spring when our general contractor was cleaning up the cornerstone we had saved. When he broke off the cement on top of the cornerstone, he found a hollowed-out space that held a small tin box. Our treasure had been found!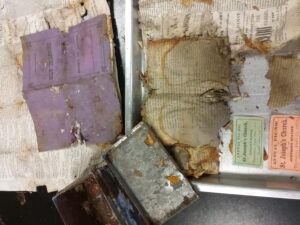 "Among the items found were the June 20, 1873 edition of the Dayton Evening Herald, the Dayton Daily Journal, a donor book for the Association of the Holy Childhood and an adult and a child's ticket to the St. Joseph's Church Annual Picnic dated June 19, 1873."
Read more from Fr. Angelo on the great treasure that is St. Joseph in the upcoming summer 2021 issue of C.PP.S. Today.