By V. Rev. Jeffrey Kirch, C.PP.S.
Throughout the centuries artists have been inspired by the Blessed Virgin Mary. In the history of art, there seem to be whole centuries where the only subject painted was the Virgin and Child. These pieces of art have nourished the faith life of so many Christians throughout history.
In our own Congregation, we have stunning examples of this art. Fr. Paulinus Trost, C.PP.S., painted many works depicting the Virgin Mary. Fr. David Van Horn, C.PP.S., sculpted a series of Madonna with Child, each unique in its design. For the Bicentennial of the Congregation in 2015, the Italian Province commissioned an outdoor statute at the Abbey of San Felice in Giano that depicts the Assumption of Mary. This beautiful bronze statue at the birthplace of our Congregation portrays Mary being lifted up into heaven. And, we cannot forget our very own Assumption Chapel at St. Charles and its massive stained glass window. In the beautiful blue tones of the window we see Mary being lifted high.
I've often wondered why artists through the centuries have focused so intently on the Blessed Virgin Mary. There is no doubt that she plays an important role in our faith life. In fact, our faith life can be said to be modelled on the life of Mary. As Mary said yes to the angel in the Annunciation, we are called to say yes to God in our lives. As Mary searched for Jesus in the Temple, we are called to search for Christ in our lives. As Mary stood by the Cross, we too are to read the book of the Cross. And as Mary was assumed into heaven, we too wait in joyful hope for that day that we are united, body and soul, with the Triune God.
On this day when we mark the birth of the Congregation, we recall how St. Gaspar gathered with several other priests to begin an adventure that continues to this day. Just as Mary trusted in God, so too did St. Gaspar. Like Mary and Gaspar, our call today is to trust in God and to sing, "My soul proclaims the greatness of the Lord, my spirit rejoices in God my savior, for he has looked with favor on his lowly servant."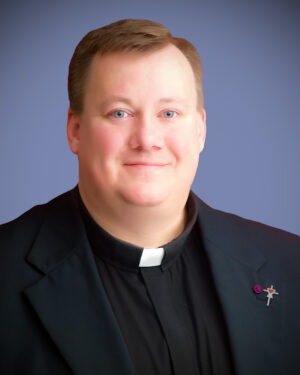 The V. Rev. Jeffrey Kirch, C.PP.S., is the provincial director of the Cincinnati Province. Previously, he served as the secretary general of the worldwide Congregation and was also in ministry at Saint Joseph's College in Rensselaer, Ind., of which he is an alumnus.