If Lent is about planting seeds of spiritual enrichment, then Immaculate Conception Parish in Melbourne Beach, Fla., created a whole garden.
The pastor, Fr. Ben Berinti, C.PP.S., likes to invite the parish each year to participate in what he calls "a community alms project, sometimes more than one."
Last year, the focus was on food: specifically, ramping up the parish's ongoing support of two local organizations with food banks. "We do a monthly collection of canned goods and funds for these organizations—it's a longstanding thing in this parish. But the response was growing tepid," Fr. Ben said.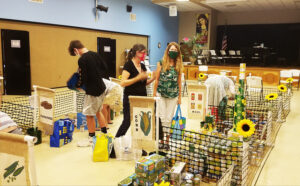 So he envisioned a unique way that people could contribute food and actually see their efforts grow. With the help of volunteers, Fr. Ben created a "garden" in the parish center. Using fencing, straw and artful signs, they made areas where parishioners could "plant" corn, beans, carrots and other canned vegetables.
"We were trying to think of a way to make it more engaging, more fun, more tactile," he said. "We let people know they were welcome to 'plant' their contributions in our community garden. It caught their attention more than just bringing a grocery bag of food and dropping it off at church.'"
Soon children, parents and seniors joined in. "Because it was in the parish center, it was something they were seeing all the time. And if they saw it one week, they planned to bring canned goods the next week," he said.
The parish's religious education classes meet there, so students naturally got involved. If parishioners left donated groceries in the church narthex, students and adult volunteers happily moved the cans into the parish garden. Some people really got into the spirit, and instead of individual cans brought in cases of vegetables bought at warehouse stores. The garden grew and grew.
Fr. Ben helped them make the connection between the Eucharistic table, where the parish family shared a meal during Mass, and the table of the world. "The Eucharist is certainly a source of spiritual nourishment. Unfortunately, that can be too much of a focus, and we pretend it does not have anything to do with real hunger and real thirst," he said. "When you receive the Eucharist, you are attempting to imitate the life of Jesus, and his life was about giving food to the hungry and drink to the thirsty. Anything I can do to make that connection tangible to the people, I'm going to do."
Fr. Ben said the parish garden did not take a great deal of time or resources to set up; a similar project in another parish can be as simple or elaborate as organizers want to make it.
The "rows" filled up quickly. Fr. Ben made sure that near the parish garden, there were brochures available that explained the ministry of the organizations, so that parishioners could learn more about their efforts and perhaps volunteer in other ways.
The garden grew beyond all expectations—in fact, it grew so much that Fr. Ben began to wonder, "How are we going to get all this stuff back out? How many trips in somebody's SUV is it going to take to get it to the organizations that need it?"
The organizations themselves came to the rescue.
One graciously agreed to pick up the food, then deliver half of the donations to the other organization.
"They were blown away by the amount," Fr. Ben said. "We collected 2,320 pounds of canned goods, over a ton of food from our parish garden."
Parishioners anticipate and enjoy these annual Lenten projects, he said. This year, the parish will not only plant its canned-goods garden once again, it will also collect a monetary donation to support the nutrition project in La Labor, Guatemala, where Missionaries are in ministry.
"We are a small parish by Diocese of Orlando standards, about 850 families," he said. "But the people are generous, and when presented with a project, they step up. And these projects are also about faith formation, in this case, illustrating the direct relationship between Eucharist and mission, particularly mission to the poor. At times as Catholics, we over-spiritualize and individualize the Eucharist so that it becomes devotional, just about me and Jesus. To me, at the heart, the Eucharist is always connected to mission—it's about real food and real drink, not just spiritual food and drink. For me as a pastor, it's important that I do anything I can to support this kind of outreach in the parish."