By Fr. Harry Brown, C.PP.S.
In prescientific times, people worried when they had to face diseases. They regarded sickness, leprosy and fever as caused by evil spirits. God had to intervene and show his mighty strength. Healing stood for expelling evil spirits.
Jesus worked many miracles like the healing of the ten lepers that we hear about in the Gospel today, but these healings are not medical reports. They are stories that convey a religious message. Indeed, we are called to be the tenth leper. We are called to live lives of gratitude, lives of thanksgiving, lives centered in the Eucharist, since all we have comes from God.
Are you like the grateful leper? Too many of us may belittle the ungrateful nine, who got well after a serious sickness and never thanked the Lord. Ever since Mass last Sunday, how many of you have thanked God for his blessings?
The second book of Kings in today's reading deals with an Aramean army general named Naaman who had the dreaded disease of leprosy. It prepares us for the Gospel of the ten lepers. When only one of the ten lepers came back praising God in a loud voice, Jesus asked: "Where are the other nine?" Yes, we can almost hear the disappointment in his voice. We today deal with the leprosy of sin, we have the sacramental penance to cure us—one and all. We need not go to the River Jordan and wash as Naaman. Are we grateful for this sacrament? Or is Jesus still questioning, "Where are the other nine?"
In today's Gospel, Jesus talks about two groups of people: the grateful and the ungrateful. Which are you? Let's take a closer look at the ungrateful. If children grow up to be ungrateful, it's probably because they were never taught to be grateful. Parents and teachers can be the best role models.
Some time ago, someone sent a letter to newspaper advice columnist Ann Landers that reads: "Someone once asked a Southerner 'where does the south actually begin?' The Southerner said proudly, 'when you notice the children say "Yes, sir" and "no ma'am."'"
The Lord expects good manners from us all. May this Gospel of the ten lepers inspire us all to be grateful. We can never say "thank you" enough. Let me close this with a classical note from a classical quote from my old pal Cicero: "Gratitude is not only the greatest of virtues, but the parent of all the others." Thank you!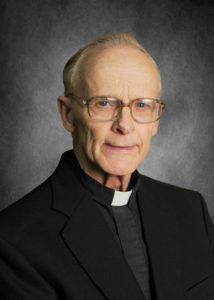 Fr. Harry Brown, C.PP.S., is in ministry at the Sorrowful Mother Shrine in Bellevue, Ohio.