By Fr. Jim Gaynor, C.PP.S.
The readings of today walk us through times of HOPE. In the second reading, St. Paul tells us, "For whatever was written in former days was written for our instruction, that through endurance and through the encouragement of the Scriptures we might have hope."
The first reading, from the prophet Isaiah, speaks eloquently of someone coming to bring about a new world, of order, of harmony and peace. This was written some 700 years before Christ, time in which the Assyrians were swallowing up smaller countries and the Jewish people felt they might be next. However, Isaiah says to them, there is hope. God will send someone who will change things in our favor.
The readings of today do not include the Book of Wisdom. However, it helps us reflect on the advent time some 50 years before Christ, in which the Jewish people had hope that there is life after death and there will be a judgment of each person´s life, destining him or her for eternal happiness with God or eternal suffering for being separated from God.
In the Gospel today, St. Matthew takes us to the understanding of Hope during the hidden life of Christ. He tells us how John the Baptist presented the person of Jesus. John´s understanding of that person is different from what Jesus turns out to be. John expected a somewhat military figure who gets the job done right now, "baptizing you with[ the Holy Spirit and fire. His winnowing fork is in his hand, and he will clear his threshing floor, gathering his wheat into the barn and burning up the chaff with unquenchable fire."
When John is in prison, he sends a messenger to Jesus to ask him if he is the messiah or should they look for another. Jesus responds with "the blind see, the lame walk and the poor have the good news preached to them."
Jesus, with his loving, fatherly way of acting, does not say that there will be no judgement and no separation of the good from the bad. What he does say is that I am, first of all a God of love incarnate. I have come first of all to show love. If my creation doesn´t accept me as a God of Love and allow me to work through their persons, administering what and who I am, that will mean suffering for me and for them.
Christ in our time, 2022, comes forth in the Church today, is incarnate in us and administers love through us. We give hope to the world of today.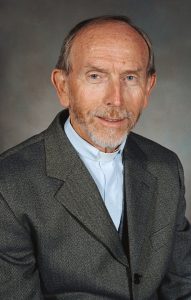 Fr. James Gaynor, C.PP.S., who served in Peru for many years, is now in ministry at St. James the Less Church in Columbus.