By Fr. Joe Nassal, C.PP.S.
On Ash Wednesday, the prophet Joel proclaims, "Rend your hearts, not your garments." Rending means tearing, as when the psalmist prayed for God to rend the heavens and come down to earth. Or, in Mark's Gospel when Jesus steps out of the water after his baptism and "he saw the heavens torn open and the Spirit, like a dove, descending upon him. And a voice came from the heavens, 'You are my beloved Son, with you I am well pleased.'"
So, the prophet says instead of tearing our clothes as a sign of our desire to change, our desire to repent, our desire to reclaim our true self, we are told to rend, to tear open, our hearts.
The heart, they say, is a strong muscle, and yet we know how fragile and prone to bruising and breaking our hearts are. As the poet Mark Nepo puts it, "The heart, when broken, always has this choice: to cling to the idea of what broke it; or to long like trampled grass for the heat of the sun."
In the Responsorial Psalm today (Psalm 51), we ask God, "Create a clean heart in me." We often associate the word "clean" as opposed to "dirty" to reflect the notion of sin and asking God to wash my heart of all the grease, grime and guilt that has accumulated over the years. To make the heart pure so no more thoughts of greed or selfishness will contaminate or corrupt the heart.
My Scripture professor in graduate school, Fr. Carroll Stuhlmueller, said "Create a clean heart in me, O God," is better translated, "Create a safe place in me, O God."
By asking to create a "safe heart," we are inviting God to create within me a safe zone where I can find my truth, where I can tell the truth about myself. To ask God to open our arteries again and let the blood flood freely, pumping and pulsing without any blockages caused by resentments and regrets that at times restrict the flow of life.
As Precious Blood people, when we ask God to create a "safe heart," we ask the Divine Surgeon to dissolve those clots that harden our hearts, that sludge of grudges we have held too long, and to open a space of forgiveness and mercy so that we may return to our true selves.
This season of Lent affords us the opportunity to examine our hearts and come home to the truth that each of us is made in God's image and likeness, that each of us is God's beloved. What is keeping me from embracing and living this truth? What is the sin that keeps me from loving unconditionally; the fear that keeps me from reaching out to others in love; the guilt that crowds out the grace or the shame that stalks my step?
May this season of Lent find us going often to our "inner room," that safe place in our hearts where we can, in the words of St. Paul in the second reading, "be reconciled to God" who transforms us and reminds us yet again we are beloved. It is from this safe place that we go forth as "ambassadors for Christ," ministers of reconciliation in a broken world.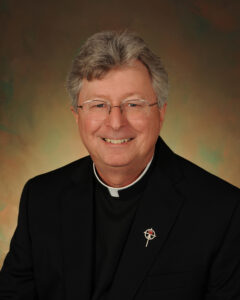 Fr. Joe Nassal, C.PP.S., a noted author, preacher and retreat leader, also serves as vice provincial director of the United States Province.