By Brother Tom Bohman, C.PP.S.
Ten days ago we celebrated the Feast of the Presentation and also Groundhog Day. We can choose to see either the light in our own lives or see the darkness. God's wisdom helps to clarify our human understanding of reality.
Today we are called to see the wisdom of God just as surely as Paul and Ben Sirach tried to view the wisdom of God in their own lives and others. Sirach talks of the immensity of God's wisdom. God sees all, while we all see a limited perspective. Paul mentions Isaiah's "Eye has not seen, ear has not heard what God has ready for those who love him."
The Holy Spirit works in our lives to help us to see better. We rely on eye doctors to help us see objects close and far and clearing our eyes from cataracts. God's law keeps up on the right track. Our eyes and ears may not know the way, but the Holy Spirit will give us the guidance to do the right thing. God's love provides us with wisdom.
Jesus came to fulfill, not destroy the law. The beginning of Matthew Chapter Five points to the light found in the Beatitudes. The Sermon on the Mount gives us positive ways to follow God found in the Beatitudes. Today's Gospel is found at the end of Chapter Five. Matthew views murder, adultery and false oaths. He suggests avoiding anger, swearing and lust. Some may say the commandments are easy to follow. They may not have looked at Matthew's passage today.
Through prayer to the Holy Spirit, we can remain in the light. God will provide the way. With God's help we can see the light. No need to worry about shadows and light of groundhogs.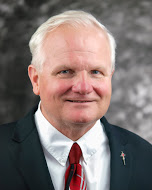 Brother Tom Bohman, C.PP.S., is in ministry at St. James the Less Church in Columbus, Ohio.