By Brother Tom Bohman, C.PP.S.
It seems a universal belief that we can find happiness at the right restaurant eating our favorite foods. Fish, eggplant parmigiana and ice cream are high on my list. Today we highlight a permanent food, the Most Holy Body and Blood of Christ-Corpus Christi.
This day has great significance to those who hold the banner of the Precious Blood high in their hearts and souls as Missionaries.  Sometimes I think that we may not be much different than the Hebrew people wandering the desert for 40 years and complaining about quail and manna.
We value things of this earth and do not consider enough the lasting benefit of the Eucharist. Recently, a man from St. James the Less Parish, where I serve, was killed in an argument over a parking place. The value of the Blood of Christ is one of the main themes of our founder, St. Gaspar, in his lengthy retreats to villages and cities. Gaspar challenged those who do not value life during his times. We need to do the same from womb to tomb.
I enjoy a pamphlet published bi-monthly called One Bread, One Body, written by lay people in Southern Ohio. Allow me to paraphrase a thought for today from this publication. Holy Communion allows us to bridge societal divisions: between families, races, nations. It allows us to get beyond our pettiness and sense of self-importance. If we are true believers in the Eucharist we can change the world. Our hope for the future is not news filled with blood and violence. We share in the great healing mystery of togetherness with one goal. Happy Corpus Christi.
To view the full scripture reading, click here.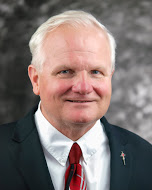 Brother Tom Bohman, C.PP.S., is in ministry at St. James the Less Church in Columbus, Ohio.