By Fr. Ben Berinti, C.PP.S.             
When you live in and pastor a beachside parish as I do here in Melbourne Beach, Fla., people are constantly coming and going. There are weekend sand and surf warriors, winter residents, accidental tourists and then regular parishioners, especially those lucky enough to be retired, who go off to visit far-flung children and grandchildren on a frequent basis.
All of this coming and going puts me in mind of the fundamental human wanderlust that pushes us to dream about, in the words of the classic Dr. Seuss title, "Oh, the Places You'll Go."
Several years ago, Fr. James Stephen Behrens, a spiritual essayist whom I greatly admire, reflected upon the beauty and the power of the written word to take us places:
[Words] are like little magic carpets…the words tingle with that power of bringing another person to a place, a place that the words evoke in the mind and heart of the reader.
He goes on to pose this intriguing question: "Wouldn't it be something if we really went where words spoke about?"
This challenging question might be of particular importance for our province and Congregation, since the power of words and the Word of God is a core value of the charism bequeathed to the Missionaries of the Precious Blood by our Founder St. Gaspar.
As an avid reader and writer, as well as proclaimer of words and God's Word, I firmly believe that words indeed "tingle," as Fr. Behrens conjectures, and they can take us to the places that they evoke. I even believe that we can become the people whom we read and speak about when we take words to heart!
It is no exaggeration to say that new worlds have been inspired and brought to life through the power of reading and reciting magnificent, imaginative words.
As people steeped in a charism, a gift for the Church at large, that puts a premium on the transformative power of words, especially when we gather around the Word of God and the enacted "words" of the Eucharist, wouldn't it be something if we really went, both as persons and as a Community, to the places about which we speak in prayer, song and in sharing the stories of God within the Eucharist?
Can we imagine? What if we really did go to that "place" where we knew ourselves, down deep within our guts, to be totally, unconditionally accepted, loved and healed by God whenever we pray: "Lord I am not worthy that you should enter under my roof, but only say the word, and my soul shall be healed?"
What if we really did go to that "place" where "grace and peace and the communion of the Holy Spirit" bound us ever more closely to one another so that no one would ever feel alone or abandoned?
What if we could end up in that "place" where we were actually "safe from all distress?"
What if, in the course of the Eucharistic prayer, we already began to turn our Eucharistic table into a "place" where "people of every race and tongue" felt completely welcomed and affirmed and knew without a doubt that they belonged?
What if we really did go that "place" of peace and unity every time we extended our hands and hearts, and the words "Peace be with you" fell from our lips?
What if every time the presider anointed a new Christian in the sacrament of Baptism, and we heard the words proclaimed, "You are anointed, as Christ was, priest, prophet and king," we entered into the "place" where we truly offered ourselves in prayer as priests; where our actions on behalf of justice were bold and strong enough to be deemed prophetic; and where we rose up with gusto to minister to the needs of the poor as the servant king Jesus modeled for us?
In a faith and practice that quite frankly is overloaded with words (not to mention a Congregation that has produced a plethora of mission statements, assembly acta, corporate statements, and much more), perhaps it is healthy to be reminded that the words of our prayer, our Scripture, our liturgy then, are more than "words"—they are enactments. We mean, and we are called to do, what we say!
If this were not the case, then our celebration of the Lord's Supper, the Eucharist, would be in vain, would merely be playing around and pretending. Our witness as Missionaries of the Precious Blood, bonded to the proclamation of the Word, would be reduced to a thousand tongues blowing hot air rather than a thousand tongues energizing people for healing, reconciliation, and renewal.
Wouldn't it be something if we really went where words spoke about?
Where's the next place you plan to go?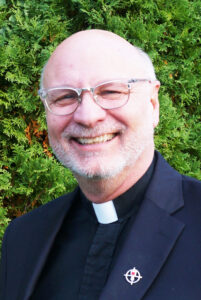 Fr. Ben Berinti, C.PP.S., is the pastor of Immaculate Conception Church in Melbourne Beach, Fla. He also serves on the provincial council of the United States Province, Missionaries of the Precious Blood.