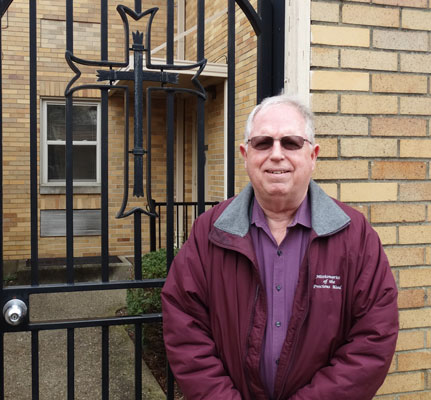 Brother Joe Fisher, C.PP.S., provincial treasurer, in ministry at the provincial office in Dayton and in the Old North Dayton neighborhood where he lives. He feels a clear and constant connection to St. Joseph, whom he calls his "buddy."
How/why did your parents choose the name Joseph for you? Were you at least in part named for St. Joseph?
My dad was a hard-working farmer who spent a lot of time in the shadows of the dairy barn or out in the field.
He was a quiet fellow. About the only time we saw Dad was when he came into the house for meals or to rest.
Of my four younger siblings and me, I probably got to spend the most time working with Dad. Dad did not say a whole lot, but when he did you had better listen. He had a dry and witty humor. He was a deeply religious man.
Now why do I mention all of this? Well, the question was asked how and or why did your parents choose the name Joseph for me. My suspicion is that my name came from my mother. Her youngest brother died shortly after childbirth and Grandma named him Joseph.
My mom, being the oldest of her siblings, had the privilege of naming one of her children after her deceased little brother. Good thing she did not wait, since all of my siblings are girls. Of course I guess there could have always been a Josephine . . . but that just doesn't have that ring, though, like Joseph.
Now the next question is whether my given name has a connection with St. Joseph. Again, I suspect so. We had a few St. Joseph statues and pictures of St. Joseph in the house.
The one that really grabbed your attention was the large statue of St. Joseph the carpenter holding a square in one hand and a plane in the other. This statue stood in the indoor chalet-style shrine that hung in the front room with all of our rosaries dangling from the bottom. You just could not miss that statue when you walked into the front room; and yes, of course, it hung right above the television.
Do you consider St. Joseph a personal patron saint? Can you describe the connection that you feel with St. Joseph?
Growing up, I cannot say that I had that close of a connection with St. Joseph. And you can rightfully say, "shame on you." But over the years, I have become closer to him. In fact, I now call him my "buddy."
My home parish in Wapakoneta, Ohio, is St. Joseph. So you might say I grew up under the watchful eye of St. Joseph.
Then, after high school seminary, I attended Saint Joseph's College and earned a degree in accounting. The Hebrew name Joseph means "may Jehovah add, give or increase." See a connection?
And now here I am working right next to St. Joseph Church in Dayton. So St. Joseph continues to keep an eye on me.
In 2013, a retreat for C.PP.S. brothers focused on St. Brother Andre Bassette.  Brother Andre had a very strong devotion to St. Joseph; many of the healing miracles attributed to Brother Andre he credited to the intercessory power of St. Joseph. To this day the Oratory of St. Joseph in Montreal, Quebec, built through the efforts of St. Brother Andre, is a popular place of pilgrimage. Preparing for that retreat helped me to come closer to St. Joseph.
Quite a few years ago, I read a book entitled, Joseph, the Man Who Raised Jesus, by Fr. Gary Caster. The book devotes chapters to many of St. Joseph's virtues as listed in the Litany of Saint Joseph. I came to a deeper appreciation for St. Joseph from that book. Fr. Caster reverses the expression, "Like father, like son," to develop a picture and understanding of the man we know so little about.
One of the invocations or petitions in the Litany of St. Joseph is, "Diligent protector of Christ." Another invocation that might be added is "Protector of workers." Growing up on the farm, I worked around a lot of machinery. Dangerous equipment. Occasionally, I recall some of the close calls that I had using that equipment. Those were life-threatening moments, and except for the grace of God, or the intercessory protection of St. Joseph, I hate to think of what the outcome might have been.
Are there times when you felt St. Joseph's influence in your discernment, formation or ministry?
God spoke to St. Joseph in dreams when St. Joseph was confronted with difficult situations. I have had at least two situations dealing with a perplexing problem, the solution of which came to me in a dream.
As a religious brother, I was particularly touched when the Church set aside May 1, one of the two feast days on the Church calendar recognizing St. Joseph, as a the day to recognize religious brothers and the unique vocation of being a brother.
On December 8, 2020, Pope Francis declared a Holy Year honoring the 150th anniversary of St. Joseph being named as the Patron of the Universal Church. His Apostolic Letter Patris Corde ("With a Father's Heart"), is a touching tribute to St. Joseph. I think it is appropriate to end here with Pope Francis' prayer to St. Joseph:
Hail, Guardian of the Redeemer,
Spouse of the Blessed Virgin Mary.
To you God entrusted his only Son;
in you Mary placed her trust;
with you Christ became man.
Blessed Joseph, to us too,
show yourself a father
and guide us in the path of life.
Obtain for us grace, mercy and courage,
and defend us from every evil.
Amen.
To read more about our Josephs and their connection to St. Joseph, click here.