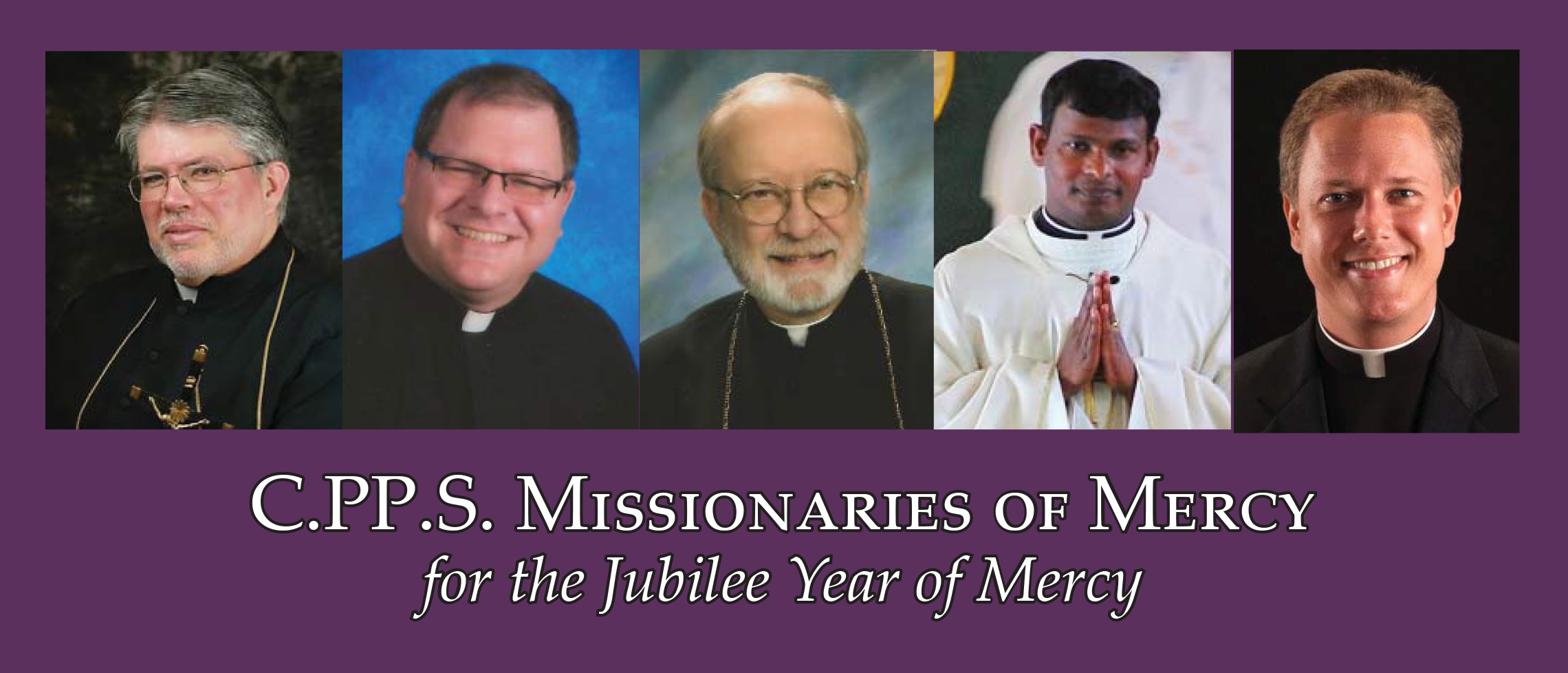 On Ash Wednesday, Five Missionaries of the Precious Blood—Frs. Steve Dos Santos, Tim Knepper, George "Yuri" Kuzara, Jayababu Nuthulapati and Kevin Scalf—will be among those commissioned by Pope Francis as Missionaries of Mercy for the Jubilee Year. There are 800 from around the world to be commissioned on Ash Wednesday, 100 from the United States.
In his papal bull declaring the jubilee year, Pope Francis wrote that the Missionaries of Mercy "will be a sign of the Church's maternal solicitude for the People of God, enabling them to enter the profound richness of this mystery so fundamental to the faith. . . . They will be, above all, living signs of the Father's readiness to welcome those in search of his pardon. . . . They will be led in their mission by the words of the Apostle: 'For God has consigned all men to disobedience, that he may have mercy upon all' (Rom 11: 32). Everyone, in fact, without exception, is called to embrace the call to mercy. May these Missionaries live this call with the assurance that they can fix their eyes on Jesus, 'the merciful and faithful high priest in the service of God'" (Heb 2: 17). (MV 18)
Priests seeking to become Missionaries of Mercy had to apply to Rome. Fr. Knepper said he did so "to show communion with the Holy Father during this year of Mercy."
For Fr. Dos Santos, "it just made sense to request the papal mandate. As Missionaries of the Precious Blood, we are already missionaries of mercy. The two ministries that Pope Francis highlighted in Misericordiae Vultus are preaching  and celebrating the Sacrament of Reconciliation in a spirit of mercy. This is part of who we are as Missionaries of the Precious Blood.
"The jubilee year is really another opportunity for us to highlight our spirituality and charism."
Fr. Scalf also said this was a good way to live out Precious Blood spirituality: "In writing about mercy, Pope Francis said, 'Let us open our eyes and see the misery of the world, the wounds of our brothers and sisters who are denied their dignity, and let us recognize that all are compelled to heed their cry for help . . . and together may we break down the barriers of indifference that too often reign supreme and mask our hypocrisy and egoism!' That's Precious Blood spirituality at its best. And I'm eager to share that charism with others who might not experience it, during this Jubilee Year of Mercy."
During Lent in this Jubilee of Mercy, Pope Francis has urged Christians to live out the corporal and spiritual works of mercy.