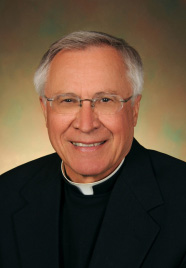 It can be hard to face end-of-life issues: hard for the person who is thinking about his or her own, and hard for their loved ones to face the prospect. But it's better to have these discussions in advance, so that one's wishes are known, according to Fr. Tom Welk, C.PP.S., who has ministered with hospice for many years.
As medical science continues to advance, loved ones who are caregivers often must face difficult decisions on behalf of their family members. They often wish they'd had these conversations ahead of time, Fr. Welk said. To help, he will present "Having the Conversation," on December 10 at 7 p.m. in the Gaspar Room of St. Charles Center in Carthagena, Ohio.
"Death and dying are part and parcel of living," said Fr. Welk, recognized for his work in end-of-life care and medical ethics. "Talking about it won't make it happen anymore than not talking about it will prevent it from happening."
During his presentation, Fr. Welk will guide participants through the essence of the conversation: deciding what matters; discussing one's wishes regarding end-of-life care; and documenting those wishes.
Fr. Welk holds a doctor of ministry degree in pastoral counseling with an emphasis on medical ethics. He is director of professional education and pastoral care with Hospice of Wichita, Kan.
The presentation is free and open to the public.