Fr. Al Spilly, C.PP.S. 
Although we sign ourselves with the sign of the cross every day, it may remain disconnected from our experience.
God the Father is a gentle, loving shepherd. We experience this early in our lives when older people show us mercy, compassion, understanding, unconditional love. Those are truly experiences of God the Father in our lives!
We have an experience of the incarnate Son of God when we encounter others who accompany us on our journey, share our joys and sorrows. Through others, the risen Lord walks with us, helps us carry our burdens, calls us to conversion and change of attitude, reassures us of God's enduring love for us. Such people help us grow closer to Jesus, the Son of God who laid down his life for us.
We experience the influence of the Holy Spirit still later in our journey when we look back over our lives and see how God's hand has guided us and given us strength—led us at times where we least expected. When someone shares God's word with us, God's wisdom—or helps us work our way through a difficult stretch of the road, that person is giving us a glimpse—in real time—of the action of the Holy Spirit in our lives and our world.
The challenge for us is to open our eyes to see others with the eyes of faith and to experience God at work in our lives through them.  And what about us? Do we mediate God's presence in others' lives? God needs our eyes, our ears, our mouths, our hands in order to manifest God's presence and activity among us!
Lord, give us the wisdom and courage to proclaim the risen Lord and his Gospel in our lives!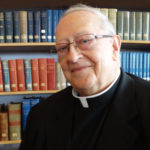 Fr. Al Spilly, C.PP.S., lives at St. Charles Center in Carthagena, Ohio. He has taught Scripture at both the undergraduate and graduate levels and has given many Bible-based retreats and talks.