In the month of October, the United States Conference of Catholic Bishops invites us to renew our call to "cherish, defend, and protect those who are most vulnerable, from the beginning of life to its end." As Missionaries of the Precious Blood, this call is woven into the fiber of our being. The Blood of Christ reminds us that God's love is for all people. This is what Jesus revealed as he responded to the cry of the lepers in today's Gospel. Instead of saying "Unclean! Unclean!" as the law required, they cried out, "Jesus, Master! Have pity on us!" In response to their act of faith and as a sign of God's love and mercy, Jesus cured them.
In 2002, the Missionaries approved a corporate statement on the sacredness of all life. "Motivated by the Blood of Christ, which proclaims the dignity of all human life, the Missionaries of the Precious Blood, Cincinnati Province, affirm our belief in the sacredness of all life. Joining our efforts with the Pastoral Plan for Pro-Life Activities approved by the United States Conference of Catholic Bishops, we pledge to put these words into action by opposing abortion, euthanasia, capital punishment, and any acts of violence against life; no matter how broken, unformed, disabled or desperate that life may seem. We will encourage our members and lay Companions to work with us in this endeavor. Together we will seek to promote a consistent ethic of life, from conception to natural death, which follows the Lord's command to love one another as he loved us."
The Blood of Christ motivates us to follow the example of Jesus by responding to the crying needs of those around us. We never know when God may use us to offer a path to healing to someone in need just as God used Elisha in the life of Naaman. The path may sound too good to be true, but with God all things are possible.
As we encounter the redeeming life that is found in the Blood of Christ, it is important that we offer thanksgiving to God. I can imagine that the nine lepers who were cured on their way to the priest had gratitude in their hearts for the healing gift they had received, but they did not translate that feeling into thanksgiving. Here we see the difference between gratitude and thanksgiving. Gratitude is a feeling of appreciation that we experience in our hearts. Thanksgiving is the act of putting that feeling of gratitude into action by giving thanks to the giver. It is not enough to feel gratitude—we must also take time to acknowledge the giver of the gift.
Today, as we gather at the Eucharist, may we be mindful of God's healing love that comes to us through the Blood of Christ and offer our thanksgiving to God who is leading us to salvation and glory. As 14th century theologian Meister Eckhart reminds us, "If the only prayer you say is 'thank you' that would be enough."
To view the full scripture reading, click here.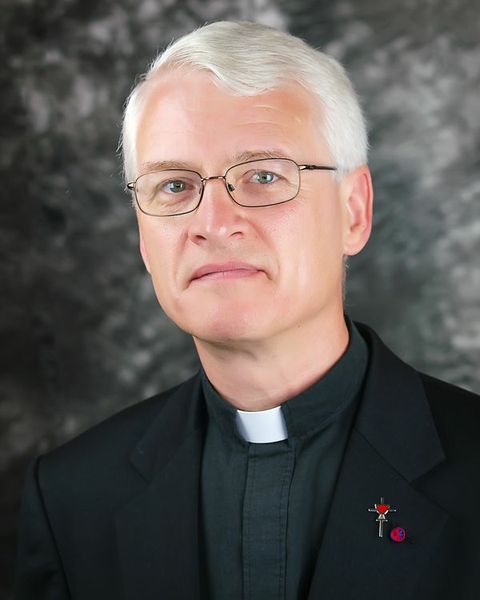 Fr. Angelo Anthony, C.PP.S., is the pastor of the Dayton Region Seven parishes, which include Emmanuel, Holy Trinity and St. Joseph.