The problem with Br. Bernie Barga's memorial was that it was too much like Br. Bernie.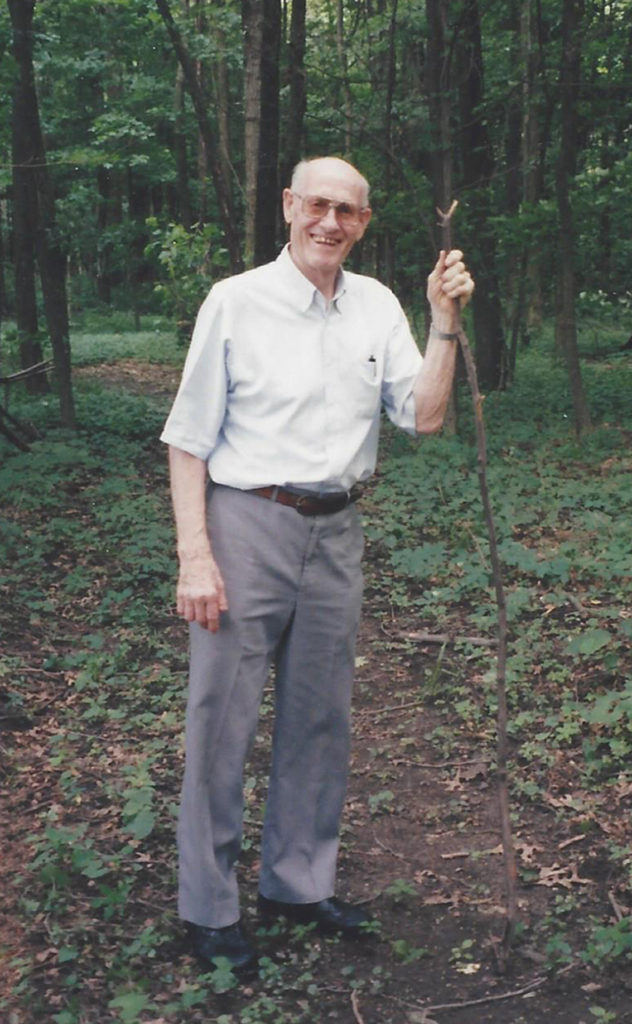 Br. Bernie Barga, C.PP.S. (1928-2001), was a force of nature—and a force for good. Boisterous and affectionate, he greeted people with "I LOVE you," and then followed up with actions to prove that he meant it. He had been a brother in the Community for nearly 20 years before he found his true calling in youth ministry.  He inspired untold thousands of young people through the retreats that he conducted with Fr. Rick Nieberding, C.PP.S., and other events.
After Br. Bernie's heart gave out the day after Christmas in 2001, his friends decided to memorialize him with a water feature outside the main entrance of the Spiritual Center of Maria Stein in Maria Stein, Ohio, where he had ministered alongside Fr. Rick for many years. Cascading water jumped among the rocks lining the Spiritual Center's walkway, as statues of saints looked on.
"The problem was that the water got going too fast, and it jumped the banks. It had a lot of energy, just like Br. Bernie," said Nick Schulze of Maria Stein, a close friend of Br. Bernie's and a frequent volunteer at his youth ministry events.
Schulze is leading an effort, now nearly completed, to restore and rehabilitate Br. Bernie's memorial. Youth groups, Scout troops and local folks have all pitched in, first to remove hundreds of rocks then replace the lining, the pumps and the water tanks. All those rocks were then put back in place.
It's been a labor of love, said Schulze, in memory of a Missionary who gave everything he had for the people he served. "There was only one like Bernie, and there will never been another," he said. "He had an infectious laugh that spread to everyone around him. When you talked to him, you knew that he was listening. There could be 1,000 people in the room, and you knew that he was focused on you."
Br. Bernie, who remained close to his birth family his entire life, soon became part of the Schulze family as well, coming over for cookouts and traveling with Schulze and his wife, Julie. "Once you met the man, you loved him," he said.
Br. Bernie projected pure joy in his life of service. But it wasn't always an easy road for him; he would confide in friends that he also had inner struggles. The person who convinced so many young people that they were worthy of God's love and mercy didn't always feel that certainty himself.
He was among the first of the C.PP.S. brothers to find a new way to express their vocation, added his friend and confrere, Br. Nick Renner, C.PP.S. Br. Nick and Br. Bernie worked together on the farm at St. Charles after their professions as religious brothers.
Br. Bernie was energized by the message of Vatican II, Br. Nick said. "He worked hard on the farm, but he would rather be with people," Br. Nick said. "Being with people got him buzzing."
In the late 1960s, the two of them took a course in catechesis and received certificates to teach. The classroom, it turned out, wasn't Br. Bernie's natural environment.
"He wasn't tough enough," Br. Nick said.
But a few years later, Br. Bernie found his niche in youth retreat ministry. It was more suited to his high energy level. He and Fr. Rick became known as "The God Squad."
"They were a hit," Br. Nick said. "They gave confirmation retreats and did a lot of other programs; they had something going on all the time."
The God Squad ministered together for around 10 years. Later in life, Br. Bernie became very involved with the Companion, the Missionaries' lay associates.
Near the end of his life, congestive heart failure sapped his strength. He made a farewell tour to friends' homes, announcing, "I'm DYING." He would not hide what was going on inside.
His friends miss him still. "I learned a lot of life lessons from Bernie," said Schulze, a retired sheriff's deputy who is part of a Saturday morning men's prayer group where Br. Bernie was also a member. At one of those meetings, Schulze said, he looked over at Br. Bernie's crossed feet and noted that his socks bore the name tag of a priest who had passed away at St. Charles.
"At the time, I was trying to convince Julie that we needed a high-end stereo system," Schulze said. "Then I thought, if Bernie can wear the socks of a dead priest, probably speakers from K-Mart are good enough for
me."
From head to toe, Br. Bernie inspired and emboldened the people around him to be more, to fully embrace their call. "Bernie did so many things for so many people over the years," Schulze said. "No one will ever know how much. And that's how he wanted it."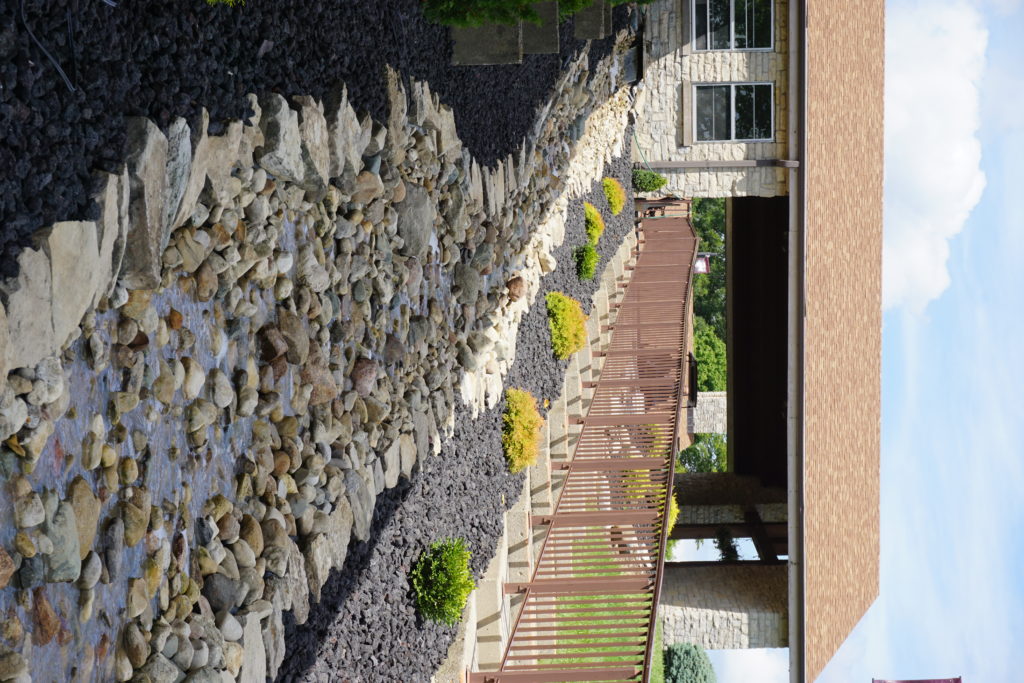 The water in his memorial moves among the rocks, finding its way despite impediments. It shines in the sun, it soaks up the rain God sends. Racing to the bottom, pumped back up to the top, racing down again, it reminds people of the endless stream of God's mercy. It reminds people of Br. Bernie.
Can you help Br. Bernie's friends complete this project? Please send checks made out to the Spiritual Center of Maria Stein to the center at 2365 St. Johns Rd, Maria Stein, OH 45860. Please add "Attn: Br. Bernie Memorial."