On the weekend of August 14–15, the Missionaries of the Precious Blood took leave of two parishes where they have longed serve. St. Augustine in Rensselaer, Ind., and Holy Trinity in Trinity, Ind., are now to be served by diocesan priests according to a plan put in place by the Diocese of Lafayette in Indiana.
Fr. Jeffrey Kirch, C.PP.S., provincial director, presided at the goodbye Mass at St. Augustine, where Missionaries have served since 1888. He told the people that he hopes the spirit and spirituality of the Missionaries will remain at the parish long after they are gone.
"St. Paul tells us that the gifts and the call of God are irrevocable. As we take leave of St. Augustine after close to 140 years of service here, it has been a gift for us to be here and minister with you. It has been a gift for each and every Missionary who has served here," he said. "Through the decades many Missionaries have come through St. Augustine, and it has been a gift that you've given to us. As the diocese reorganizes and a new pastor comes, I pray you welcome him with the same generosity and hospitality with which you have welcomed our Missionaries over these past 140 years.
"As we take leave, the call of God to work for justice remains. It is our hope that our spirituality has been so deeply ingrained in the parish that you will continue to work for reconciliation for our world, our towns and our homes. I continually will pray our spirituality will guide the people of this parish to become missionary disciples of Christ."
Fr. Kirch relayed the good wishes of Missionaries who served at St. Augustine, including Frs. Ken Alt, Tim Knepper, Andy O'Reilly, Mark Peres and Ken Pleiman. He recognized C.PP.S. people from the Precious Blood Ministry of Reconciliation—Sr. Carolyn Hoying, Sr. Donna Liette, Fr. Dave Kelly and Fr. Denny Kinderman—who were at the Mass. The parish has a long connection with the PBMR in Chicago.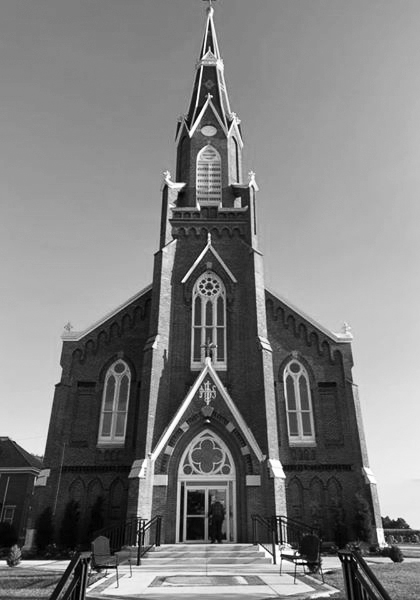 Mainly, he recognized the pastor, Fr. Don Davison, C.PP.S., who is celebrating the 40th anniversary of his ordination this year. Fr. Davison, who gave the dismissal at the end of Mass, also said a few words. He is a student of history, he said, and he found the words of Queen Elizabeth I at her last meeting with parliament most appropriate as he leaves St. Augustine: "You may have mightier and wiser princes that sit on that chair, but you never had, and never will have, one that loves you better."
"That's my sentiment today," Fr. Davison told the people. "Thank you for writing me into your history. I will love to be remembered as a pastor of St. Augustine."
Similarly, at Holy Trinity, the people expressed their appreciation for the service of the Missionaries, who founded the parish in 1858. Fr. Steve Dos Santos, C.PP.S., represented the Missionaries at that goodbye Mass, along with Holy Trinity's pastor, Fr. Ken Alt. There too, it is hoped that the Missionaries' legacy will be one of a generous spirit in a welcoming parish.
Fr. Alt is now in ministry at the Marion Catholic Communities in and around Maria Stein, Ohio. Fr. Davison is now the pastor of St. Patrick Church in Walkerton, Ind.