Robert Schreiter, C.PP.S.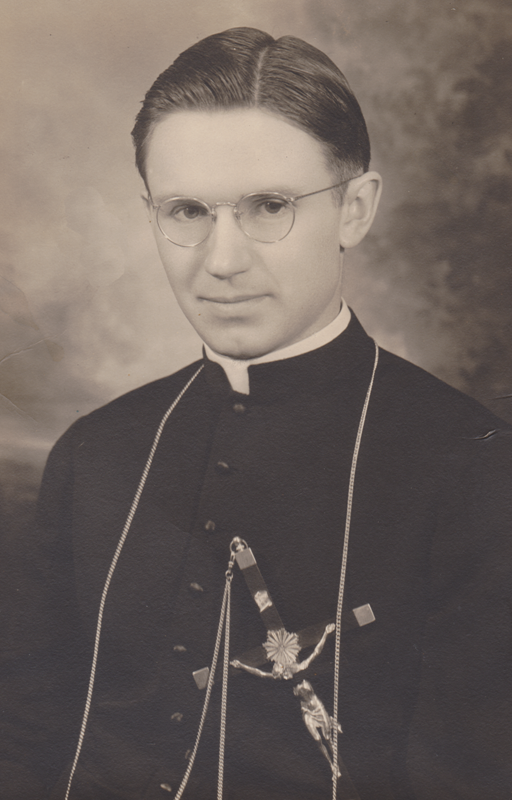 In the more congenial atmosphere in which the Bible can be studied and appreciated today, it is easy to forget there once was a time when such serious study could not be undertaken so easily. Fr. Edward Siegman, C.PP.S., was one of the pioneers who made our current situation possible.
Fr. Raymond Brown, S.S., once described him as "a compassionate priest and an honest scholar who suffered much for biblical truth." These words capture what made him so influential in both student and scholarly circles.
Edward Siegman was born in Cleveland in 1908. He entered the Congregation in 1922 and was ordained a priest in 1934. He was sent by his superiors to study Scripture at the Catholic University of America, where he received a doctorate with a study on the false prophets of the Old Testament. From 1937 to 1951 he taught at his Congregation's seminary in Carthagena, Ohio. In 1952, he returned to CUA to teach Scripture.
He was an engaging and compelling teacher, providing his students with reams of mimeographed notes that gave them up-to-date biblical scholarship. Although demanding of his students, he was remembered as an extraordinarily kind and compassionate priest, who always had time to stop and listen to his students amid his own rigorous work regimen. Both his compassion and his deep love of the Word of God left a lasting mark on the many seminarians and priests he taught.
In 1951, he assumed the editorship of The Catholic Biblical Quarterly, a position he held until 1958. In the course of his career he published fifty-nine articles and reviews in the CBQ, but importantly he brought the journal to the high academic standard by which it has been known ever since.
Negotiating biblical exegesis in the Catholic Church in the 1950s was a delicate enterprise. Siegman was a courageous defender of the new biblical study that had been approved by Pope Pius XII in Divino Afflante Spiritu in 1943, even though it continued to be contested in some Catholic circles until the Second Vatican Council. This was the case at CUA in Washington, where opinion was deeply divided. In 1958, Siegman was pressed to undertake study for a Licentiate in Sacred Scripture at the Biblicum in Rome, even though he had been teaching Scripture already for many years. The final blow came in 1962 when he was forced out of Catholic University altogether.
He returned to teach at his Congregation's seminary. His colleagues in the Catholic Biblical Association honored him by electing him its president in 1966. That same year he began a professorship in the University of Notre Dame's new doctoral program. His health had been compromised by the years of stress, and he died of a heart attack in 1967 at the age of 59.
He met the attacks against him with good humor and was always the gentleman even in heated disputes. His love for the Word of God, his commitment to his students, and his kindness to those he encountered shaped a generation of biblical scholars upon whom the study of the Scriptures in the U.S. now stands.
View more stories of inspirational Precious Blood people.
This article first appeared in the April 2019 issue of The Bible Today and is used with permission.