By Fr. Joseph Deardorff, C.PP.S.
When I was a child, my dad would always tell me that I was named Joseph because my birth was only a few weeks after Christmas and that St. Joseph had played such an important role as a father and caretaker. A picture of St. Joseph always hung above my bed, and each night my father would pray that he would watch over me as well.
I always considered that as the principal reason why I was named Joseph, but only later, when I was much older, I discovered that my grandfather, whom I had never met, was named John Joseph. My older brother has the name John and being the second male, I was named Joseph.
The picture of St. Joseph that hung above my bed when I was a child has always been a vivid part of my memory of growing up. In grade school, at the parish church, there was a large statue of him off to the side. I would go to talk to him and on many occasions asked for his help.
Called to Carpentry?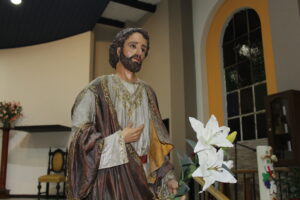 Inspired by St. Joseph, I thought that one day I could become a carpenter. It was one of my interests while growing up. At 14, I entered the Missionaries' Brunnerdale High School Seminary as a brother candidate. During my time there, I always admired the work of Br. Oliver Weaver, C.PP.S., a carpenter by trade and one who was always willing to serve the Community and be a source of its hospitality.
I discovered eventually that I was not endowed with the skills to be a carpenter and that the Lord was calling me to something else. In my last year of studies, the Lord made it clear to me that I was to pursue the priesthood and to prepare myself to be part our foreign missions in Latin America.
Off to Saint Joseph's
I then attended Saint Joseph's College in Rensselaer, Ind. They were years of personal transformation and were very challenging to me. It was there that I began to define myself and discover my creativity. I always felt that St. Joseph was present to me and was a guide in those moments when I was confused or making poor decisions. It was as if he would bring me back to the path that was chosen for me, as a father would do for his son.
In my third year, I studied in Germany for a semester. During that time, I also was able to live from time to time with our Community in Salzburg at Kolleg St. Josef. It was there that I discovered the deep devotion that
the Germans have to St. Joseph and I came to appreciate that as part of my cultural roots.
First Mass at St. Joseph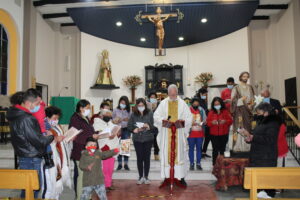 I was ordained a priest in June 1982. I celebrated my first mass at St. Joseph Church in Dayton, where Missionaries are still in ministry. My parents by then were living in Mississippi and I no longer had ties to the parish where I grew up. I chose St. Joseph Church because I could identify with him and I had developed a sense of gratitude for the role he plays in my life.
In this year dedicated to St. Joseph, I took time out to develop a novena in his honor. In preparation for his feast day in March, the people of the parish where I now serve, Our Lady of the Alps in Bogota, Colombia, came together for nine days to reflect on the life and virtues of St. Joseph. Each Wednesday, we celebrate a votive mass in his honor and afterwards, we continue our reflections and our prayers for his intercession.
To read more about our Josephs and their connection to St. Joseph, click here.