By Fr. Bill Nordenbrock, C.PP.S.
I have heard a story told of what is claimed to be the shortest homily every—just seven words. According to this story, it was on the Feast of Christ the King and after reading the gospel, the preacher paused dramatically to ensure that he had everyone's attention. And then he preached this sermon:
 If Christ is your King—prove it.
Then he returned to his seat and for the next five to ten uncomfortable minutes he allowed the congregation to sit in silence to ponder his challenge.
While I can't attest to the veracity of the story, since hearing the story that challenge as remained within me.
The Church celebrates this feast on the last Sunday of the liturgical year, a culmination of our year-long liturgical journey. The Scriptures we read present a vision of a promised fulfilled. Today churches will be filled with song and words giving praise and glory to the Christ the King.  Yes, I want to join in on the chorus, "To Jesus be glory and power forever and ever, Amen!" But while the "king" gets top billing in the celebration today, what holds my attention on this feast, like the preacher in the story above, is not the identity of the king, but the vision of the kingdom. More specifically, today I want to take up the challenge of what it means to be a citizen of this kingdom.
Daniel's vision was of the "Son of man receiving dominion, glory, and kingship" and it was also a vision of "all peoples, nations, and languages serving him." This is a vision of the reign of God that is, as Jesus tells us in the gospel, unlike any kingdom that we know. We read that this is a kingdom created "by him who loves us and has freed us from our sins by his blood."  Or as Paul wrote to the Colossians (1:19,20): "It pleased God to make absolute fullness reside in him (Jesus) and, by means of him, to reconcile everything in his person, both on earth and in heaven, making peace through the blood of the cross." It is this eschatological vision that we remember and celebrate today. A vision that is promised but not yet revealed.
Not yet revealed. If we look around at our world, that statement is obvious, isn't it? But instead of looking around, I want to look inside. If Christ is my king, how do I reveal that I am a citizen of that kingdom? Two possibilities emerge in my reflection.
The eschatological vision is one in which all peoples and all of creation has been reconciled in Christ through the Precious Blood of Jesus. If this is the kingdom of God, then a good name for the kingdom would be Communion. It is a time and place when all are in communion with God and one another. All peoples in their uniqueness and differences have been united into one community at peace, through love. This is the vision that we remember on this holy feast and which we celebrate with Eucharist. As I await the full revelation of this time and place of Communion, in this "not yet" time, I pray that I might live a Eucharistic life. I want my citizenship in this kingdom called Communion, to be visible in how I live my life. I must live with recognition and acceptance that all people are part of my community and I must live with them in peace.
And secondly, I want my citizenship to be visible by offering a witness of hope. My life in this "not yet" time needs to trust that the promised vision will someday be revealed in all its glory through the love and power of God. No view of the problems of the world can be allowed to block my view of the vision offered by God.
I am not a big fan of "not yet" time. Without objection from me, it has been suggested that I am not exactly full of patience. While the final cosmic vision has not yet been revealed, I know that it has also "not yet" been revealed in my life. Yet the revelation of the love and mercy of God for me has been revealed in Christ, through the shedding of his blood; and it is that blood which gives me hope and Eucharistic nourishment to continue the journey of faith.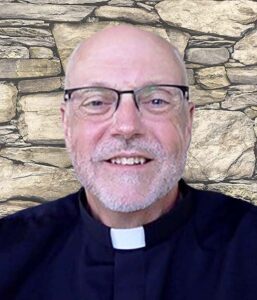 A former moderator general of the worldwide congregation, Fr. Bill Nordenbrock, C.PP.S., continues to minister in service to the Community. Currently he resides in Chicago and is the interim director of advanced formation.