By Brother Matthew Schaefer, C.PP.S.
Last week I went to the store to get supplies for our religious education program's Christmas party. As I turned into the Christmas aisle, looking for candy canes and chocolate Santas, I was faced with an entire row of empty shelves. An employee pulling a skid of cardboard boxes, appeared behind me. When I asked where all the Christmas stuff was, she said they had to move it—to make way for the Valentines candy! This got me thinking about the place that Christmas has in our society. People often complain about Christmas coming too soon and they are not ready yet. Or Christmas coming too early. Think about when you encountered your first Christmas commercial this year. Did you still have the air conditioning on?
Of course the commercial aspects of Christmas are not the ones that should be guiding our lives. From the beginning of Advent to the Baptism of the Lord, the Church gives us plenty of time to prepare for, celebrate, and reflect on Christmas. Despite the deliberate and methodical season of Advent, Christmas Eve always seems to come quite quickly to me. And I'm not sure this is such a bad thing. It's an interesting combination of settling into comfortable traditions and suddenly confronting the beauty and solemnity of the birth of Jesus.
At Emmanuel Church in Dayton, where I work, we have a very nice nativity display in the sanctuary. When looked at closely, it seems to be made up from two different sets because the figures are of different sizes. From a distance, it gives the display a sense of perspective. Most interesting is the figure of the baby Jesus. He seems to have come from a third set, because he is really big—as big as the cow and donkey. I'm not sure this was ever done intentionally, but it shows what is most important about Christmas. This little baby, larger than life, is more than what he appears to be. Mary and Joseph knows he is special, and the shepherds and the magi have an inkling. We even like to think that the animals are drawn to Jesus.
My favorite Gospel reading from the Christmas masses is from John's Gospel, which is the least Christmas-y of all the readings. No mention of Mary or Joseph, no angel or shepherds, no Caesar Augustus or Bethlehem. Instead we have "In the beginning was the Word, and the Word was with God, and the Word was God." Whenever I read this passage from the beginning of my favorite Gospel, I am moved by the combination of simplicity and majesty. When it is proclaimed in church on Christmas day, I get goosebumps. The celebratory mood of Christmas Mass is heightened with the awareness of the magnitude of the Incarnation: "And the Word became flesh and made his dwelling among us, and we saw his glory." This is both an occasion for praise and a call to mission.
Reflecting on the birth of Jesus nearly 700 years ago, theologian Meister Eckhart wrote, "What good is it to me that this birth happened, if it does not happen in me? That it should happen in me is what matters." How do we give birth to Jesus in our lives? How do we revel in the glory of the Incarnation, that mysterious gift from God that gives our very being dignity? How do we share the knowledge of this greatest Christmas present—the ultimate gift-that-keep-on-giving—with others? Long after the decorations are taken down and our minds have settled into Ordinary Time, let's keep a spark of the Christmas spirit alive inside us. Whether we're hiding Easter eggs or watching summer fireworks or raking leaves, in the back of our minds may we be gazing in wonder at that little baby in a manger.
To view the full scripture reading, click here.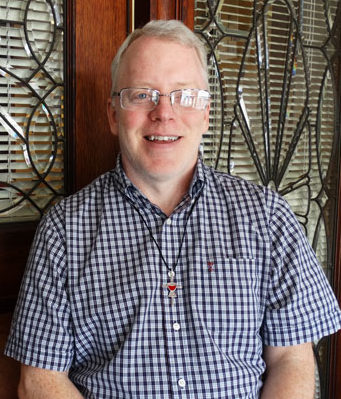 Brother Matthew Schaefer, C.PP.S., is in ministry at the Downtown Dayton Parishes, which include Emmanuel, Holy Trinity and St. Joseph.