By Brother Jim Ballmann, C.PP.S.
In 2020, with a donation from the First Catholic Lady's Slovak Association, Calumet College of St. Joseph landscaped the grass island just outside the front entrance and christened it the Giving Garden.
In 2021, our college president, Dr. Amy McCormack, designed a sculpture titled Fire and Water to be the focal point of this garden and dedicated it to the Missionaries of the Precious Blood. The Missionaries founded and are the sponsor of the college, now celebrating its 70th year, in Whiting, Ind.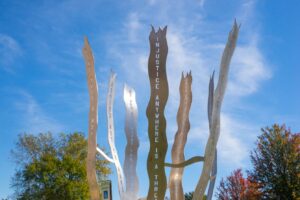 This sculpture is made of stainless steel and is composed of seven waves which undulate side-to-side and front-to-back. The seven waves represent the seven decades of the college and its five mission pillars: open to growth, intellectually competent, religious, committed to justice, and loving.
On each of the waves is a quote from a famous person and at the base of each wave is a plaque with the name of the author of the quote.
The quotes are:
Martin Luther King, Jr.: "Injustice anywhere is a threat to justice everywhere."
John F. Kennedy: "This country cannot afford to be materially rich and spiritually poor."
Elizabeth Seton, SC: "Live simply that all may simply live."
Desmond Tutu: "Inclusive good quality education is a foundation for dynamic and equitable societies."
Catherine of Siena: "Be who God meant you to be and you will set the world on fire."
Oscar Romero: "Aspire not to have more but to be more."
Mother Teresa: "Give your hands to serve and your hearts to love."
At the blessing of the sculpture on October 31, Dr. McCormack explained the design and construction of the sculpture. She was inspired by the steel industry in the area, the fire that is seen burning from the refinery, and the living plant life in Lake Michigan and the surrounding waters of the Calumet region. The movement of both fire and water demonstrates strength, fluidity and upward, forward motion. Fire and water carry powerful religious symbolism of wisdom, knowledge, eternal life, faith, healing and protection.
She explained that each step in producing the sculpture required a person with a different skill: drawing the sculpture, acquiring the steel, fabricating the steel, laser cutting the letters for the quotes, creating the name plaques, and installing the sculpture. Each person involved in the creative process knew someone who could complete the next step.