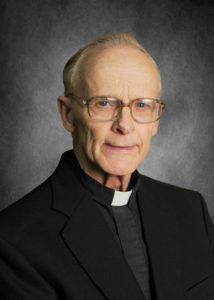 The following was written by Fr. Harry Brown, C.PP.S., who at age 90 is still in active ministry at our Sorrowful Mother Shrine in Bellevue, Ohio. 
Shrines are important within the life of the Church—especially in today's pandemic world and political turmoil era. They are here to revitalize, reenergize and heal. Yes, to heal! Often this comes through the sacrament of reconciliation, or penance.
Pilgrims visit the Sorrowful Mother Shrine from all over the world and many, both laity and clergy, take advantage of the confessional. These pilgrims come to the shrine as neutral ground, since we are not a parish where friends and neighbors are watching them. Our staff priests are always available one full hour before every Mass. What a life-giving blessing for pilgrims. Confession is an "emergency healing station" for many. Let them come!
Many visitors come to the shrine for solace and peace. They come to the chapel to unburden their souls to Christ and his Sorrowful Mother. Other people come out of curiosity, since they see the beautiful electric marquee at the shrine entrance or find informative facts and views on the internet. Interested visitors are told they won't regret a stop at the special shrine, even if it's only a quick stop. Local newspaper reporters say the same.
Pilgrims delight in the fact that they can depend on daily 10 a.m. confessions and 11 a.m. Mass as a rule. The shrine is here to save people 365 days annually. The religious and lay staff are proud to say that we are fulfilling our mission. Now we look forward to welcoming the 2022 ethnic Sunday pilgrims and daily ones.  A brand new season!
We also continue to hire new personnel as needed in various positions—all designed to make the shrine more efficient and productive. And we are always thankful for the many lay volunteers who keep us running smoothly—all 120 acres! The recent resurfacing of both big parking lots and front entrance driveway have been great improvements and much appreciated by the pilgrims.
Please seriously consider visiting this gem, our Sorrowful Mother Shrine. Our doors are open, even in pandemic times. Welcome!