By Fr. Harry Brown, C.PP.S.
This Sunday's theme for readings is Lift up your hearts to God in prayer. And yes, today's readings deal with persons conversing with God. Let's ask ourselves during Lent: "Do I find prayer really important? When do I pray? How often? Do I do any serious Bible reading daily?" People of God, it's Lent and time for action! Conversing with God in prayer changes us. Remember that Jesus was a man of prayer. Does Jesus inspire you? Listen to him. Follow him.
Perhaps one of the greatest paintings of all time is Raphael's Transfiguration in the Vatican Gallery. There are three levels in the scene. Above we see Christ raised up in the billowy clouds. His face and form are transfigured. Just beneath the Lord we see Peter, James and John—representing all people on their way to God. And on the lowest level, in darksome colors, is a group of disciples and a family surrounding a sick boy. What a contrast between the brightness of Jesus above and the darkness of the dismal scene below.
Raphael was trying to tell us in today's Good News that Christ is the hope and the healer of all. The afflicted boy represents you and me. In this masterpiece, two figures stand out: one disciple is pointing to the sick child, the other disciple is pointing forcefully up to Christ. What an awesome scene! So this is our cue—our need to point to those who are in need all around us.
Jesus had warned his disciples several times that he would suffer and die. Now he gave three of them a special experience. It was a glory so wonderful that they did not want it to stop. They wanted to set up three tents, not for themselves, but for Jesus, Moses and Elijah.
In the midst of this glory, St. Paul reminds us that "our citizenship is in heaven." Thus, we are only tourists in this word and it's not our true home. We must always have our bags packed. And the Mass is always a promise and assurance of what's ahead, especially in Communion. He has not left us orphans. With Christ inside us (Communion), our bag is packed and ready.
Finally, Lent is a time for growth. As such, we can see Lent negatively as a time of deprivation, or we can see it positively for growth. As the transfiguration for Jesus was but a prelude to his resurrection, so baptism directs us to a future event. That event is our sharing in the glory of Christ's resurrection. The body and blood of the Lord in the Eucharist nourish us on our way to our destiny.
The truth is that we are on a journey, but our journey is not a death march. If we in any way are going the wrong direction, we can always make a U-turn then keep marching. Holy Lent!
To view the full scripture reading, click here.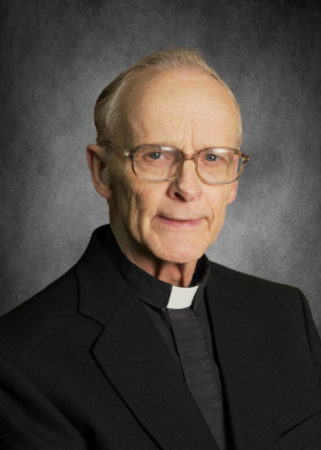 Fr. Harry Brown, C.PP.S., is in ministry at the Sorrowful Mother Shrine in Bellevue, Ohio.