By Fr. Tony Fortman, C.PP.S.
Today we hear from Sirach. "My child, conduct your affairs with humility, and you will be loved more than a giver of gifts. Humble yourself the more, the greater you are, and you will find favor with God. What is too sublime for you, seek not, into things beyond your strength search not. The mind of a sage appreciates proverbs, and an attentive ear is the joy of the wise. Water quenches a flaming fire, and alms atone for sins."
Sirach tells us not to go after things beyond our strength. It is great that we have high aspirations, but at the same time, we have to be honest with ourselves. This is not a weakness, but maybe a helpful hint to encourage us to use our gifts for the betterment of others. We do have boundaries and limitations, and we must acknowledge them and take ownership of them.
We help others when we stay within our boundaries. Sometimes we hear that we can be anything we want to be, but I do not believe that this is true. Sure, we work on our weaknesses but the world deceives us in thinking that we can be all things to all people. This type of thinking is generated from pride and pride is one of the seven deadly sins.
I first meditated on this passage about three years ago. As a priest, I want to give the impression that I have it all together. I want to show people that I can do much, but I realized through two hernia surgeries that I can't possibly keep going all day, every day. At my last assignment, I became physically sick because I was not getting enough rest and peace of mind. There is a peace in knowing that I need the help of others if I am going to be an effective minister. I don't have to know everything about everything.
I joined the Missionaries of the Precious Blood not to prove how talented I am but realizing that I need the help of others. I need some people who have my back and I have theirs. As a husband and wife work together, so does our religious community. I know that my C.PP.S. brothers have talents I do not have. I need to lean on them at times.
Fr. Barry Fischer, C.PP.S., said that we are better together. I don't tear my brothers in Community down. Jesus told me to build them up. It is easy to tear people down. The world does that but families don't do that. So keep it simple, everyone. Let us bring the Gospel to this chaotic world. God bless you all.
To view the full scripture reading, click here.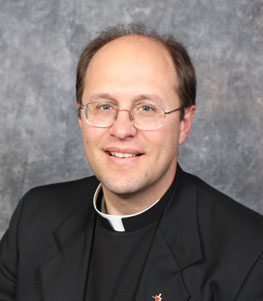 Fr. Tony Fortman, C.PP.S., is the parochial vicar for Northeast-6 Family of Parishes (Precious Blood, St. Rita, St. Paul, St. Joseph, Emmanuel and Holy Trinity in Dayton).