By Fr. Tim McFarland, C.PP.S.
The readings for today might be seen as a study in contrasts. From the Book of Wisdom, we read that "Before the Lord the whole universe is as a grain from a balance or a drop of morning dew come down upon the earth." Pretty small stuff. However, if you have seen pictures from the James Webb Space Telescope, they point to the vastness of our universe and are awe inspiring. How much is unknown to us! Glimpses of previously unseen cosmic wonders from so many light years away come to us as new sights and with insights, scientific and spiritual.
These images are precious in their minuteness and hint at something greater. Mystery and wonder. As questions abound of cosmic origins and the relationally with us and our earthly dwelling, so does our faith quest open us to new ways that we come to see and understand God.
In the familiar story of Zacchaeus in Luke's Gospel we have another contrast. We hear that Zacchaeus was the chief tax collector, so he would have been a rich man and as such would have had great status because of his wealth. Yet he was small in stature and to catch sight of Jesus he had to climb a tree. We might imagine the reactions of people who saw him in the tree. Some might have ridiculed him; others might have admired his ingenuity.
In both images, what seems to be small and overlooked is under the watchful care and concern of a loving God. We might ask, what made Jesus stop in Jericho when he intended to pass through? What gives us unexpected pauses? Pauses that can be life changing for us and others . . . pauses to notice deeply and consciously something of nature right where we are . . . pauses that allow us to consider the evolving universe anew . . . pauses that help us see and value diversity in those that might be overlooked by many . . . pauses that help us see the small things around us that give us a glimpse of much greater realities.
This message echoes our Precious Blood spirituality as it reminds us that Christ's Blood was shed for all and reconciles all to God. It challenges us to see the presence of God in the small things like the grain or the dew drop that is absorbed into the ground or evaporates into the atmosphere. It reminds us that those who are rich and powerful can have a change of heart and help those in need. And above all, it reminds us that Christ's Blood is a reconciling presence and challenge in our lives to recognize the unity of all creation.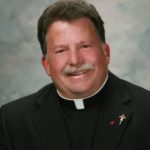 Fr. Tim McFarland, C.PP.S., is the director of ministry and mission and serves on the faculty at Calumet College of St. Joseph in Whiting, Ind.