Jean Giesige, Editor
For the past several months, the auditorium at St. Charles Center has been the headquarters for Follow the Star, a first-time event at St. Charles that will be unveiled to the public on December 10, through December 18.
It is a winter wonderland in there, a gorgeous greenhouse of garlands, trees and wreathes that soon will make their way upstairs both to the halls of St. Charles and outside for the big, new event.
Follow the Star will include (in St. Charles' first floor hallway) the Stations of the Nativity and a festival of trees, decorated by youth groups from parishes around St. Charles. St. Charles will be decorated inside and out for the event, with holiday lights, ribbon-bedecked wreathes, garland, and anything else that the active imaginations of a very dedicated group of volunteers can dream up.
Follow the Star was a vision that several people held in their hearts and brought into being. Lay resident Joann Eilerman had always decorated outside of her third-floor apartment and down the hall. Senior Living Manager Teresa DiSalvo always wanted to organize a Christmas event to invite surrounding communities into St. Charles, but the stars had never aligned (so to speak).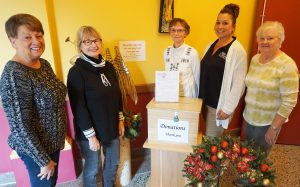 Until this year. Joann's daughter, designer Betty Welsch, volunteered her considerable talent to direct the decorating efforts. St. Charles lay residents Lois Hogenkamp, Kathy Homan, Jan Patterson and Beth Ryan agreed to be on the committee. That group combed the countryside for gently used, affordable Christmas decorations, then spent untold hours getting it into the auditorium, tearing it apart, and reassembling into arrangements suited to the scale of St. Charles. "I couldn't have just brought in a little thing from home and had fit in here," said Betty.
All projects had to be done on a budget. "We committed to doing this back in July, but we were doing it on a wing and a prayer," Teresa said. Committee members reached out to connections in the community who could help. Local businesses and individuals donated to the cause.
"Every challenge we thought we were going to have, we were able to meet," Teresa said.
That doesn't mean there weren't some moments of doubt. Betty said that she had volunteered to help, but as the project grew and grew, "a little bit of panic set in. There was one meeting in August where we walked around outside and (the committee) told me they wanted decorations all the way up and down the lane on the light posts and around the circle, I thought, 'Oh my, how are we going to do this?'"
Betty said that after she suffered her moment of doubt, "I came here to St. Charles and prayed the rosary. I said, 'Lord, they want big. I need help. I don't know how to tell these ladies we can't do this.'" That night she received a text from a friend, which an auction of stage props and scenery held by the nonprofit St. Anthony Dinner Theater, a treasure trove of Christmas.
"The miracles that happened along the way have been unbelievable," Betty said.
The volunteers knew that there was so much more at the heart of Christmas. Joann insisted that the event have a spiritual component, and Kathy Homan took on that challenge.
Researching online, Kathy learned about a book written by Fr. Joseph Nassal, C.PP.S., called The Stations of the Crib. The book is out of print, but Kathy followed its trail and found a parish in Wisconsin that had posted a pdf of its outdoor "Stations of the Nativity" project, a series of prayers and devotions leading people to celebrate the birth of Christ.
Kathy coordinated the Stations of the Nativity for St. Charles, from the Annunciation to the Holy Family's Flight into Egypt. "We hope they will help people walk along with Jesus' journey," she said.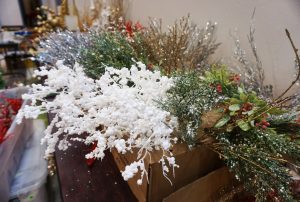 The event will be an early Christmas present for visitors to St. Charles, but also for the place itself, Teresa said.
"One of the most special things about this event is that it happened from the inside out," she said. "The residents here have had a tough couple of years. The quarantine caused feelings of separation and isolation that were very heavy. This was the most important year for us to buckle down and provide this celebration. It's not just for one day—it's something that the residents can experience and treasure for weeks after. This is their home, and this will be a wonderful way for them to share it in a special way."