Joseph's Dream by Edward Jarmosiewicz
By Fr. Steve Dos Santos, C.PP.S.
Joseph, son of David, do not be afraid to take Mary your wife into your home. (Matthew 1:20)
The fourth Sunday of Advent invites us to step into the Christmas story more directly. As we are reading the Gospel of St. Matthew, we are given St. Joseph's take on the story. He had to be confused. Mary his betrothed is pregnant. He knows he has not been with her. What was he to make of all of this? Presumably Mary had told him her story, but that would have been hard to believe, until he had his own angelic visit. The angel invites him to trust in God's promise, and to take Mary into his home. The one to be born will be called Emmanuel.
Joseph stands in a place where we all stand from time to time. Looking out at the task or tasks that lie before us, wondering how we can possibly do it. Especially those things that God seems to be calling us to. I can imagine Joseph saying, as many have said since, "You want me to do what?"
Being a follower of the Christ child invites us to look beyond what is and put our faith in what will be. It is an invitation to step out in faith, to do hard and scary things trusting that the One who calls will be there with us.
It would be so much easier if we all enjoyed angelic visits reassuring us of the task at hand. They would stand as clear signals that we are on the right track and that God is guiding us along. At the very least they would be course corrections, as Joseph's visit was. But we don't get visited by angels. Instead we have the Scriptures, and the Church to guide us along the way. But we still have the same promise, "Do not be afraid…"
God is calling each of us to something this Advent, and I don't mean get your New Year's resolutions ready. God is calling each of us to take the next step in our journey, and it may be harder and scarier than "eating better" or "reading more" this year. It will be on the scale of "loving more" or "judging less."
Like St. Joseph, we are each being invited to play our part in the work of the Christ child. And like St. Joseph, we need to hear those words "Fear not," and to trust that the one being born is us, in the Christ child, Emmanuel, God with us.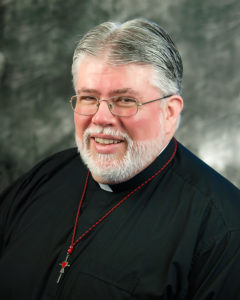 Originally from Alameda, Calif., Fr. Steve Dos Santos, C.PP.S., served for a number of years at St. Agnes Parish in Los Angeles. He is now the vocation director of the Missionaries of the Precious Blood.