By Deacon Greg Evers, C.PP.S.
At the beginning of the new year, I had the opportunity to join Fr. Steve Dos Santos, C.PP.S., in promoting vocations at the SEEK 2023 conference held in St. Louis. I had heard of SEEK but did not know much about it. I learned that much of its focus is geared toward engaging college-age students through campus ministry.
This year, there were more than 18,000 students in attendance, largely from college campuses here in the U.S., but there were some from other countries as well.
Throughout this conference there were workshops and speakers. There were also booths sponsored by vendors and religious communities that students could visit.
Over the course of the week, Fr. Steve and I spoke with several people who stopped at our booth to share a bit about who we are as Missionaries of the Precious Blood. We shared our own personal stories about how we came to the Community and the kind of work we are currently doing.
Many of the students most likely were just passing through to pick up some prayer cards, medals or other memorabilia that we brought with us. But there were a few who chose to visit with us for a longer period of time to listen to our stories of hearing God's call and trying to find resonance with that.
During one of the evenings at the conference, adoration of the Blessed Sacrament was taking place in the main auditorium along with confessions in an adjoining space. I decided to take some time to go to adoration.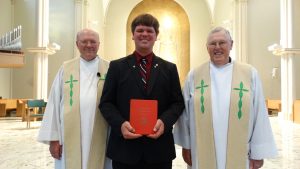 Part of my own vocation story involves me attending an event similar to this. It was my first real experience of the larger Church, praying with thousands of other Catholics from all over the country. It was out of this experience of prayer that I began to feel like I was being called to religious life.
As I sat in adoration at the SEEK conference, I can remember thinking to myself that someone may be starting their journey of discernment toward a religious vocation tonight. Perhaps they may even find their way to us?
One of the challenges at a conference like this, in my opinion, is learning to keep your expectations realistic. While at the conference, I had the chance to visit different booths sponsored by religious communities. I ran into a few people whom I had gotten to know when I was at Catholic Theological Union. One of them had become the vocations director for his community.
I asked him what his thoughts were on conferences like SEEK. He said they are a great opportunity to help put ourselves out there and let people know where we are and what kind of work we do, but in terms of getting vocations, the chances are probably slim. What attracts vocations is building relationships with people.
This resonated a lot with my own story. Before I was ever introduced to Precious Blood spirituality, it was the members who attracted me to the Community. This does not diminish the importance of our spirituality and charism. But I think we first need to be invited into something if we are to truly make it our own.
Fr. Gene Schnipke, C.PP.S., was willing to be open with me and share his story and his experiences as a Precious Blood priest and chaplain in the Air Force. Through my discernment process I had the opportunity to hear the stories of other Precious Blood members and other people who were discerning with me. Through these stories and experiences, I was able to better discern where God was calling me. Eventually that has led to where I am today.
We all know that storytelling can be a very powerful tool, whether it's in promoting vocations, reconciliation work, preaching a homily, or simply speaking with someone we just met. Our stories help not only others, but they also help ourselves to see where God has worked in our lives and where God may be calling us to go next.
Deacon Greg Evers, C.PP.S., is in ministry at St. James the Less Parish, Columbus, Ohio.