By Fr. Tony Fortman, C.PP.S.
Today we celebrate the ascension of the Lord. Jesus ascended into heaven body and soul in the presence of the Blessed Virgin Mary and his apostles. This is not the first time Jesus was suspended in the air. If we go back to the transfiguration, we see that Jesus was suspended in the air when he was talking to Moses and Elijah.
Many of us may think that supernatural experiences are not needed to needed to inspire our faith. That is true. Jesus said blessed are those who do not see but still believe. Yet we have the Eucharist change into real flesh and precious blood. As Christians, it is not necessary for us to have supernatural experiences, but God still chooses to work in that realm. We do believe a miracle takes place at every Eucharistic celebration. I do believe in the true presence of Jesus in the Eucharist. To me, the miracle is that the body and blood of Jesus continues to look like bread and wine. Because I know it's the body and blood of Jesus.
To be honest, I have not had a lot of supernatural experiences. When I was visiting in our parishes in Lima, Perú in 1999, I was being shown around by a fellow C.PP.S. seminarian, Emanuele Lupi. He was later ordained and is now serving as our moderator general—but during that trip to Peru, where he was in ministry, he introduced me to a lady who was a teacher.
Nine years later, I was at Medjugorje when the same teacher approached me, although she did not know it was me. She asked me a question about faith. By then I had been ordained and was dressed as a priest. The miracle was that this lady teacher was from South America and I met her again in Eastern Europe nine years later.
On this solemnity of the Ascension of the Lord, our hope is that our souls will ascend to heaven someday. We read in Scripture, "Our citizenship is in heaven and from it we await a savior." This world is a testing ground.
Everything that happened to Jesus will happen to us. We will experience joy, pain, betrayal and new life. You and I are called to extend the mission of Jesus. Jesus ascended into heaven and is interceding for us to continue his mission. Let us give all we have to extend the reign of God. Glory to the Blood of Jesus, now and forever.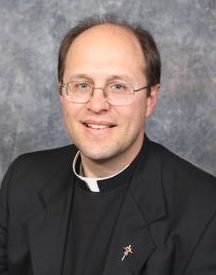 Fr. Tony Fortman, C.PP.S., is the pastor of the three parishes in the Catholic Communities of Northwest Dayton, Precious Blood, St. Paul and St. Rita.